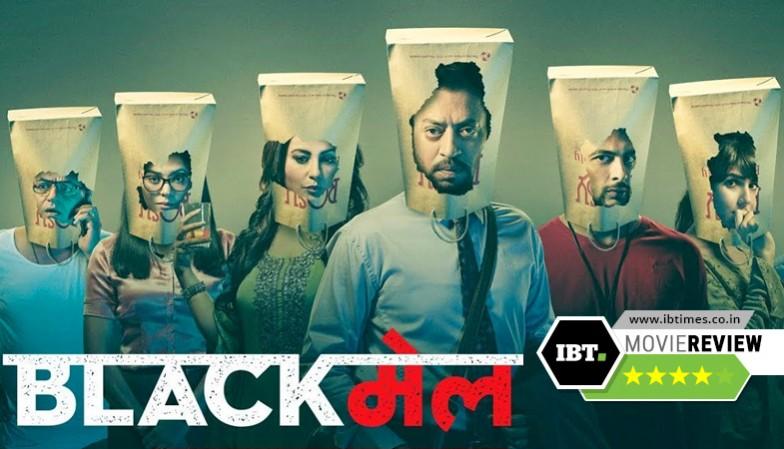 Rating: 4/5
Cast: Irrfan Khan, Kriti Kulhari, Arunoday Singh, Divya Dutta and Omi Vaidya
Director: Abhinay Deo
Genre: Black comedy
Storyline
A cat and mouse chase executed so well but as a 'crime of passion'. A simple story yet so complex will keep you guessing until the end. Dev (Irrfan Khan), a middle-class man, leading a 'boring' life with his pretty wife Reena (Kriti Kulhari) discovers something shocking after his friend Anand Tripathi (Pradhuman Singh Mall) advises him to surprise his dear lady by reaching home early for a change. What happens? Dev finds his wife in bed with her lover Ranjit (Arunoday Singh) — who is married to Dolly Verma (Divya Dutta).
Dev is not a violent person and hence doesn't kill his wife or the lover, but he has a twisted plan in his mind to take revenge. He starts blackmailing her lover Ranjit (Arunoday Singh), with 'some' evidence, who in turn blackmails Dev's wife (Kriti Kulhari).
So you ask where is the comedy here? Well, as the plan starts to unfold the series of events becomes interesting. The story gets you hooked when the other characters in and around Dev's life get to know of his blackmailing plans and starts blackmailing him in return. Does he his plans go kaput? Does someone die because of blackmailing? Is he successful in taking his revenge? The story sounds confusing? Trust me, it's not. Watch it to believe it.
USP of the film is its climax — it heavily connects with reality and is unlike a typical Bollywood ending. Kudos Mr Director!
Performances
Irrfan Khan: His eyes do the talking, acting and everything else. And that's exactly what 60% of the movie does. With minimal dialogues, Irrfan is brilliant in the film. He is helpless — can't voice his opinion in front of his boss (played by Omi Vaidya) or his wife (who cheats on him) but the way he handles each scene with a straight face is a delight.
Kriti Kulhari: She's beautiful. That will be your first thought right after she enters the film. Compliments Irrfan well and justifies her character well.
Arunoday Singh: Oh boy, a mad lover and husband. With a negative character in the film and all the bad blood and anger inside him, Arunoday shines with his fantastic acting.
Divya Dutta: Take a bow lady! Just like her mad husband, her character is also crazy — an abusive, drunk and dominating wife, daughter of a rich father who brings in a mind-boggling twist to the story.
Positives:-
The opening shot of the film — Irrfan Khan in the toilet — sheer brilliance. Director Abhinay Deo's attachment with a toilet or toilet humor is amusing (it reminded me of Delhi Belly).
The music of the film by Amit Trivedi is kickass and fits in perfectly with each scene. Hats off.
Special shout out to Omi Vaidya (we missed you on-screen) who plays yet another crazy boss with an American accent whose life is all about his work — to sell toilet paper (toilet, there again). Prabha Ghatpandey played by Anuja Sathe who is Irrfan's colleague in the film — is also involved in blackmailing (watch the movie to know 'who'). She is loud, opportunist, and aggressive. Gajraj Rao in a cameo performance impresses us with his superb acting in his role of a 'cheap private detective' named Chawla. Neelima Azeem who plays Divya Dutta's mother could have done much more in the film but her role was too short. And let's not forget Urmila Matondkar's item number!
Every character in the film has their complications and Irrfan is connected to them all.
Negatives:-
The film was little long and slow in the first half — maybe because director Abhinay Deo was building up on the plots. But the length of the film could have been 15-20 minutes shorter if the editing was crisper.
Verdict:-
Quirky humor, brilliant performances makes Irrfan Khan's Blackmail worth a watch.