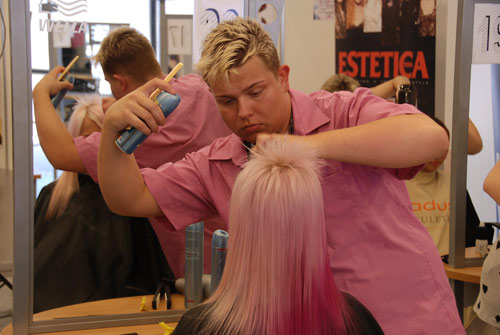 A number of researchers from the US have discovered a new particle that can be used as a coating device, and can reflect any light the user wants it to, making it very useful for a number of industries, like aviation, defence, and even cosmetics.
According to scientists from the University of New Mexico and Los Alamos National Labs, this particle can be used to make different patterns on an original object, and change its physical appearance, such as shape, design and even colour.
The scientists are currently testing it only on human hair, and say that the particles, once applied through an iron beam on the hair could change the colour of the hair, as per the choice of the user. However, these scientists also believe that this particle could be used for more serious purposes, like defence.
The researchers believe that these particles could be used to save lives on civilian aircrafts, as they have the potential to make the aircraft undetectable to the laser sights on surface to air missiles. Had this technology been available in the modern times, perhaps the Malaysian Airlines Flight MH17 could have avoided the missile that was allegedly shot at it.
The scientists also believe that this new technology could also be used as a security measure in credit cards. They even believe that it could be used to identify friends from foe, or civilians from enemy militia, in a violence stricken area. Although, the process of this latter use of the particle is not quite clear yet.
Currently, however, the scientists are trying to put this particle to cosmetic use, according to the study, which has been published in the Journal of Cosmetics, Dermatological Sciences and Applications. They also believe that they have found an easier way of drawing both permanent and temporary patterns on the human hair.
"That's one way to do it, to make the pattern directly onto your hair, your permanent hair and that would be more of a permanent change until it grows out," Bangalore Mirror quoted Zayd C Leseman, one of the researchers. "The other idea was and still is to actually develop some kind of conditioner. Some kind of polymer coating for your hair, and then when you actually do the patterning with your flatiron that's specially developed for this polymer coating, maybe low heat or something like that. Then you could actually pattern the conditioner or the polymer on your hair first. And then it would easily wash out if you wanted it to go away."