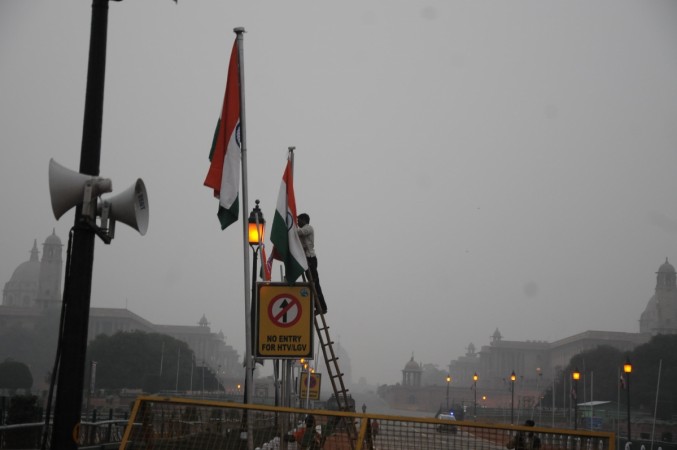 The Delhi Police is keeping a close vigilance on people with black caps and mufflers this Republic Day where US President Barack Obama is the chief guest for the celebrations.
As per NDTV reports, Maoists may try to enter Rajpath where the 66th Republic Days parade is taking place, say sources.
The Maoists in Chhattisgarh have put up posters and distributed pamphlets against the Republic Day celebrations and boycotting the US President's visit. A general strike has also been called by the Maoists as a mark of protest against the celebrations.
Obama is the first US President to attend India's Republic Day celebrations as the chief guest where the country's defence arsenal is showcased along with folklores and dances that represent the cultural diversity of India.
To maintain complete harmony during the Republic Day parade, there is tight security in and around Rajpath.
The main stage at Rajpath where President Pranab Mukherjee, his US counterpart Barack Obama, Prime Minister Narendra Modi along with others are seated is being guarded by around 2,000 security personnel. As per sources, extra caution has been taken in making passes for the security personnel as there was information that anti-social groups may use fake id proofs in order to get inside Rajpath.
A check comprising three rounds was conducted for allowing the visitors inside the premises of Rajpath and the security personnel had the authority to refuse entry without giving any justification.
The areas in and around Rajpath is being guarded by about 500 police personnel who have specially been trained to spot suspicious movement in order to trace anti-social elements.
A seven-layer security ring has also been put up along with the no-fly zone extended up to 400 km covering Jaipur, Agra and also the Pakistani border.
15, 000 CCTV cameras have been installed in central Delhi for monitoring all the activities of the capital by a joint team of Delhi Police and US Secret Service agents in a central control room.