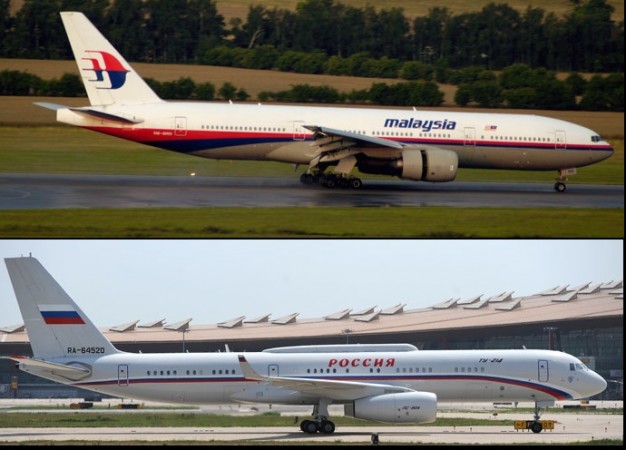 Unverified reports stating that Russian President Vladimir Putin could have been the real target of the rebels as the presidential plane had taken the same route and looked quite similar to the Malaysia Airlines plane which was shot down, is a hoax in all probability.
Reports, claiming to be sourced from Interfax news agency, said that the Malaysian Airlines flight MH17 was travelling almost the same route as Putin's jet, shortly before it was shot down, killing all 298 onboard.
The claim that MH17 was "accidentally" targeted, instead of the Russian President's plane, could not be verified independently.
"I can say that Putin's plane and the Malaysian Boeing intersected at the same point and the same echelon.That was close to Warsaw on 330-m echelon at the height of 10,100 metres.The presidential jet was there at 16:21 Moscow time and the Malaysian aircraft 15:44 Moscow time," the 'Interfax'-based reports quotes a source who wished anonymity.
"The contours of the aircraft are similar, linear dimensions are also very similar, as for the colouring. At a quite remote distance they are almost identical," the source added.
However, Russia Today questioned these reports, stating that the news could not be verified as Interfax was the "only media source to publish the news".
The theory that Putin was the target is a far-fetched conspiracy theory in all probability. RT and Moscow Times, quoting the online portal Gazeta.ru, stated that though Putin's plane does take off from Vnukovo-3 it does not fly over the neighboring country, following the conflict.
Indian PM was Set for Same Route
It is understood that Indian Prime Minister Narendra Modi was also set to take the same flight route.
The Hindu reported that Modi was also supposed to take the same route, hours after the MH17 was shot down, but his flight plan was changed following the incident.
Meanwhile, two other planes cruising in the same altitude as MH17 had narrow escapes. Singapore Airlines Boeing 777 jet (SQ 351) and Air India Boeing 787 jet (AI 113) were flying very close to MH17, when it was shot down by the rebels, according to India Today.