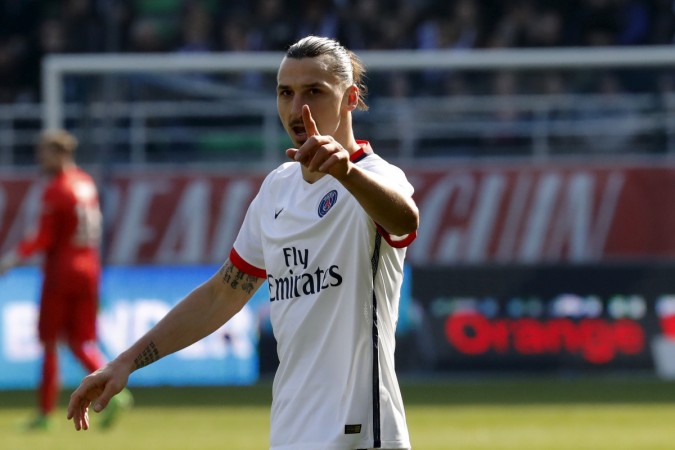 Manchester United-linked Zlatan Ibrahimovic revealed at the start of the season that he will not be a PSG player for the 2016-17 season. The sensational forward went a step further now to admit that there is only one way the French giants can persuade him to stay another season -- by replacing the iconic Eiffel Tower with his own statue.
Ibrahimovic is known for his out-of-the-world quotes, with the latest one no different.
The Sweden international, who famously said "I sent Denmark to retirement" after scoring last year and guiding his national team to the Euro 2016, played an instrumental role as French giants PSG won the Ligue 1 title for the fourth straight season, Sunday, in record time.
Ibrahimovic scored four goals as PSG decimated Troyes 9-0 in their last Ligue 1 game. PSG won the title, with eight games still to go this season. After the match, the 34-year-old lanky forward was asked if he has made any decision to extend his contract with PSG..
The rumour mill has linked the former Barcelona man with a transfer either to Premier League giants Manchester United or the Major League Soccer (MLS).
"For the moment, I will not be at PSG next season. I still have a month and a half left here," Ibrahimovic told beIN Sports. "If they replace the Eiffel Tower with a statue of me, then I will stay. I promise," he added with a smile.
Ibrahimovic's contract at the Parc des Princes comes to an end this summer. The club's Qatari president Nasser Al-Khelaifi, meanwhile, has revealed that they are willing to sit down with the player once again and negotiate a possible contract extension.
"Zlatan is magical," he said. "He is a great player. We are going to talk him and see what he wants to do. We want him to stay."
Ibrahimovic has scored 35 goals from 39 games in all competitions this season and his impressive form could be another factor towards PSG achieving a quadruple this season under Laurent Blanc. They are still in contention for the UEFA Champions League title, the French Cup title and the French league cup title.
"We must now stay focused because the season is not finished," Al-Khelaifi continued. "We have three more cups to fight for, but the Champions League is our biggest dream.
"We want to go as far as possible, but we know there will be some very strong teams."