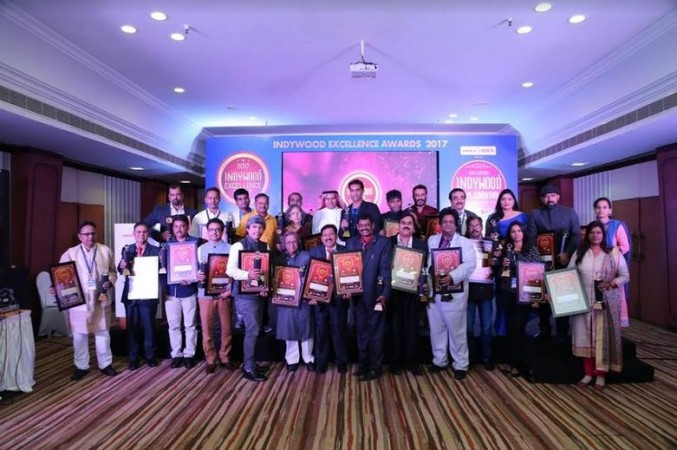 Several renowned journalists were honoured with Indywood Media Excellence Awards 2017 at a spectacular event held in Hyderabad's Ramoji Film City on December 1.
The award was organised to recognise and facilitate journalists for their relentless services and efforts made to keep us abreast of the latest happenings across the globe. It was meant to recognising the contributions, outstanding services and accomplishments spanning through a career in journalism.
Mohammed Ibrahim Al Qahtani, Nawab Shaji Ul Mulk, chairman of Mulk Holdings, Sami Syed, CEO of Phoenix International Group of companies, and Suresh C Pillai, CEO of Mark Technologies WLL, were the special guests at the event. They presented Indywood Media Excellence Awards 2017 to the winners.
A panel discussion on 'The Role of Visual Media in Impactful Branding' was also conducted. The panel discussed how visual media has become an effective tool in uplifting the brand image of an organisation. The session was moderated by Anil Wanvari, founder, CEO and Editor-in-Chief of Indian Television. Rajesh Kumar G, Editor-In-Chief, Pravasi Express, and P Viswaroopan, MD of JANAM TV, were the panel members.
Indywood Media Excellence Awards 2017 was organised as a part of Project Indywood, a $10 billion project.
Here is the list of winners of Indywood Media Excellence Award 2017:
| | | |
| --- | --- | --- |
| No | Award | Winner |
| 1 | Lifetime Achievement Award | Mr Khaja Quayum Anwar, Editor in Chief, T News |
| 2 | Lifetime Achievement for Entrepreneurship | Mr Anil Wanvari, Founder / CEO / Editor in chief, Indian television |
| 3 | Lifetime Achievement award for Entertainment Media | Ms Ratnottama Sengupta, Managing Partner, Winning Management Concepts LLP / Former Arts Editor, The Times of India |
| 4 | Life Time Achievement for Media Services | Mr MA Rahim, Sr most journalist and Social worker |
| 5 | Life Time Achievement for Social Welfare of Journalist | Mr Kamlesh Pandey, Chief Sub-editor, Sanmarg |
| 6 | Journalist-Political Affairs | Ms Surekha Abburi, Bureau Incharge, Sahara Samay |
| 7 | Journalism – Media Administration | Mr Krishna Kambalapally, Channel Head, TNN News |
| 8 | Journalist - Media Entertainment | Mr Byju G Melila, Producer, Asianet |
| 9 | Journalist – News Administration | Mr. Anil Nambiar, Special Correspondent, Janam TV |
| 10 | Regional News Network | Bharat Samachar |
| 11 | Popular Infotainment Channel | JANAM TV |
| 12 | Regional Expat channel | Channel D |
| 13 | Journalist – Expat Social Affairs | Ms AnjanaSankar, Abu Dhabi Bureau Chief, Khaleej Times |
| 14 | Regional Reporter – Social Affairs | Mr. ShajahanKaruvally, Staff Reporter, Chandrika Kochi |
| 15 | Photo Journalist | Mr Rayapati Samuel JohnThomas, International photo journalist, Press Information Bureau |
| 16 | Regional Correspondent | Mr SH Faazil, Chief Of The News Bureau, Visalaandhra |
| 17 | Indian Expert -International Journalism | Mr. Devadathan Nair, Media and Communication Manager, Al Nisr Publishing LLC |
| 18 | Journalist - International Affairs | Dr Priyanka Saxena, Executive Director, Asian News Network |
| 19 | Regional journalism | Mr Mohammed Shareef, CEO, Indradhanusu.in |
| 20 | Social Affairs | Mr Aritra Sinha, Feature Editor, The Political and Business Daily |
| 21 | Online film Promotions | Mr. Shekhar H Hooli, Special Correspondent, IBTimes India |
| 22 | Online Expat Indian Media | MaaGulf.com |
| 23 | Promising Digital News Media | Greenkeralanews.com |
| 24 | Online Journalism | The News English magazine |
| 25 | Media Promotions-Indian films | Whiz Media LLC |
| 26 | Promoters-Regional Media | RK MEDIA |
| 27 | Professional Excellence | Pravasi Express |