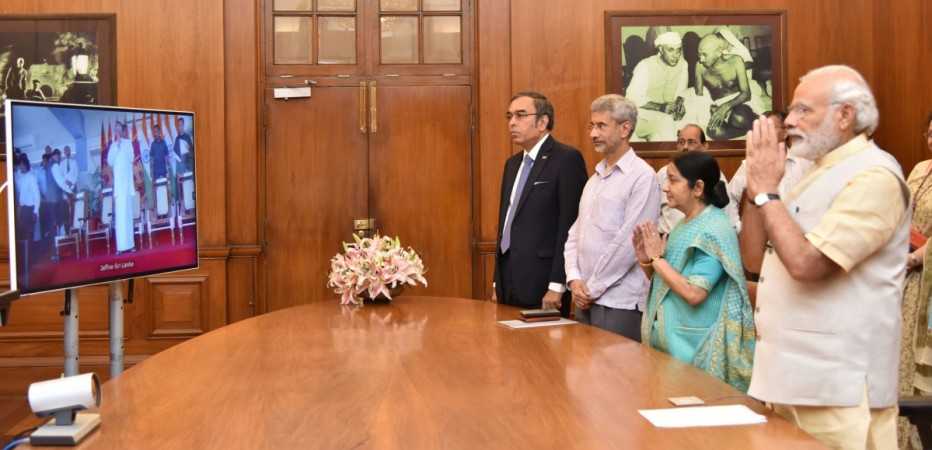 Almost 41 years after the assassination of Alfred Duraiappah — the former mayor of Jaffna — the renovated stadium named after him was inaugurated jointly by Prime Minister Narendra Modi and Sri Lanka President Maithripala Sirisena on Saturday.
While Sirisena was in the stadium, Modi inaugurated it via video-conferencing from New Delhi.
The stadium — described as a "symbol of optimism and economic development" by Modi — has a seating capacity of 1,850 spectators and has been renovated at a cost of Rs. 7 crore by India, according to official statements by the Prime Minister's Office (PMO).
"The Duraiappah Stadium is not just brick and mortar. It is a symbol of optimism and economic development. Its successful completion is a signal that you have left the past behind and are looking to the promise of a prosperous future," the PMO statement said.
Duraiappah was assassinated on July 27, 1975, (Sunday) in Jaffna, capital of Sri Lanka's Northern Province, outside the city's Vishnu temple (Varatharajah Perumal Temple) in Jaffna district's Ponnalai area.
"Mayor Duraiappah had alighted from his car and was about to enter the Vishnu temple when he was shot at point blank range. Death was instantaneous with a single revolver bullet piecing his heart," according to a report in the Asian Tribune in 2008. He used to visit the temple every Sunday and this was apparently known to the killers, believed to be from the LTTE, it added.
However, two years later, the editor of the same publication told Sri Lanka's Lessons Learnt and Reconciliation Commission (LLRC) that the assassination was carried out by another separatist organisation TULF leader A Amirthalingam's eldest son Kandeepan.
The stadium will witness its first major event on International Yoga Day this year when over 8,000 people are expected to participate in the demonstration next Tuesday.