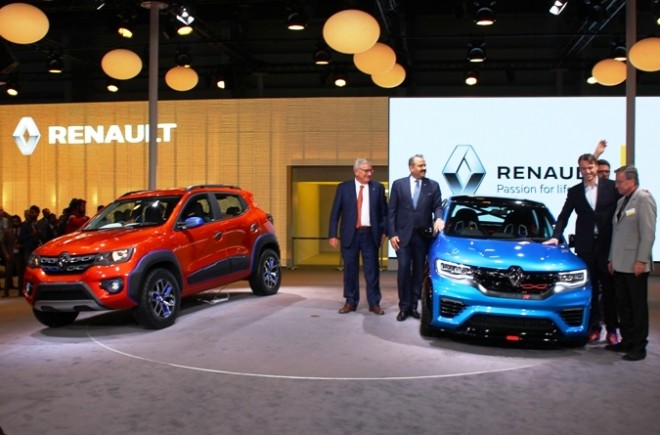 French auto-maker Renault is reportedly planning to launch the production-spec of its two concepts -- Kwid Racer and Kwid Climber -- that were showcased at the Auto Expo 2016 in early February in India.
The Kwid Racer and the Climber would be launched as special editions in India after the launch of the Kwid 1.0litre and AMT, reports IndiaCarNews. Renault Kwid Racer and Climber concepts have earned good responses from auto lovers when these were showcased at the Auto show.
According to the report, the Kwid Climber is likely to get a price tag premium at Rs. 50,000 on the upcoming model Kwid 1.0litre. Renault is expected to launch the Kwid 1.0litre and the AMT during the festive season of this year.
Renault Kwid, which forayed into the Indian market in last September, has become a huge success in the country and has garnered over 1.25 lakh bookings. Renault, not keen to rest on its laurels, has started working on the variants of the Kwid immediately after the launch.
Renault Kwid Racer
Kwid Racer comes with features like18-inch alloy wheels, low-profile tyres, honed aerodynamics, bucket seats and a roll cage. The model, which was showcased at the Auto Expo, was donned in metallic blue colour and flaunted wide air intakes, spoilers and diffuser. Inside the cabin too, the Racer stays true to its name with features like four-point harness in the bucket seat, digital rev counter and a leather-trimmed steering wheel in alloy frame.
Renault Kwid Climber
The Climber variant of the Kwid is an off-roader and comes with features like short overhangs, high ground clearance, fattened bumpers and side protective mouldings. It also has features like, specially-designed pattern tyres and diamond cut wheels with extensions highlighted in electric Blue shade. Inside it gets Nappa leather for the steering wheel and upholstery.