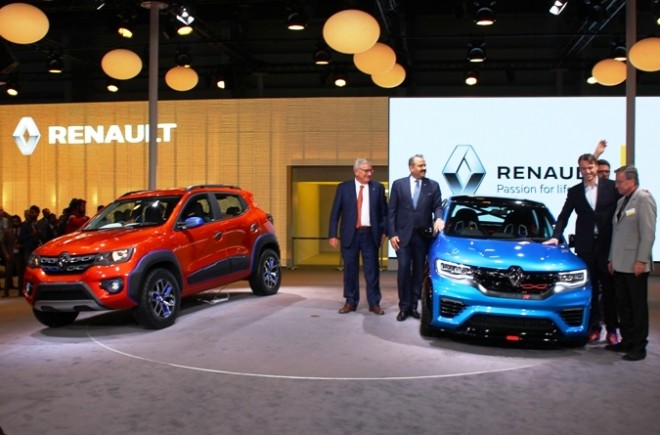 The biggest attractions at Renault India's stall in Auto Expo 2016 were the two concept models of Kwid, the Racer and Climber. The jazzed-up avatar of Renault's popular hatchback received huge applause at the unveiling and during show days. Buoyed by the response, the company is reportedly planning to launch prodcution-spec of the concepts.
An IndianAutosBlog report confirms that the French company plans to launch the models as limited special edition. When the publication asked about the possible production version, Rafael Treguer, vice president of sales & marketing at Renault India, replied, "Absolutely. You'll see them as special or limited edition models."
The Climber variant of Kwid comes with short overhangs, high ground clearance, fattened bumpers and side protective mouldings, giving it the traits of an off-roader. The concept features wide track, specially-designed pattern tyres and diamond cut wheels with extensions highlighted in electric Blue shade. The Kwid Climber showcased at Auto Expo was draped in the flame-orange colour. The interior features Nappa leather for the steering wheel and upholstery. The snap hooks, shoulder belts and seat belt straps come with rock-climbing theme.
The Kwid Racer, as the name suggests, is a track-focussed version. The concept features 18-inch alloy wheels, low-profile tyres, honed aerodynamics, bucket seats and a roll cage. Guised in metallic blue finish the Racer concept features wide air intakes, spoilers and diffuser that underlines performance prowess. The inside of the car features materials like Alcantara, aluminum and carbon. The racing theme is carried inside with a four-point harness in the bucket seat, digital rev counter and a leather-trimmed steering wheel in alloy frame.