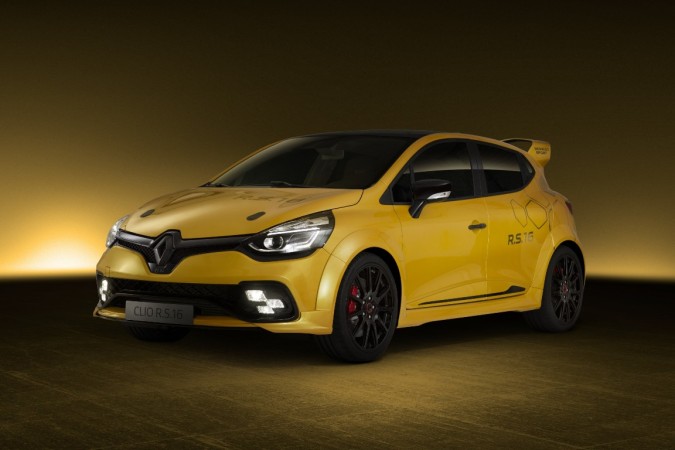 French car-maker Renault unveiled the Clio R.S. 16 concept car to celebrate Renault Sport's 40th anniversary and return to Formula 1 in the 2016 season. The new concept car will be driven by Renault Sport Formula One Team's Kevin Magnussen to the track on Friday (May 27) ahead of the Monaco Grand Prix.
The car features Renault Sport's trademark Sirius yellow in combination with gloss black details to mirror the livery of Renault Sport Formula One Team's R.S. 16 F1 single-seaters. The concept car borrows the Megane R.S. 275 Trophy-R's engine, transmission and cooling system. The Clio R.S. 16 is powered by a 275hp, 2.0-litre power unit that delivers peak torque of 360Nm. Renault claims the concept's suspension has been engineered to match the performance characteristic, and the car features an Akrapovič twin exhaust system. The concept also boasts of adjustable Ohlins dampers, track-biased tyres and a pair of bucket seats with six-point harnesses.
Compared to the regular Clio, the Clio R.S. 16's body has been widened by 60mm and comes with 19-inch wheels for a sporty stance. The sporty design is accentuated with the LED R.S. Vision chequered-pattern lighting that features multi-faceted reflector technology.
"Our aim was to produce a concept car with genuinely outstanding performance credentials," said Patrice Ratti, managing director of Renault Sport Cars, in a statement. The vehicle has been in development for just five months, with the deadline set for the Monaco Grand Prix 2016.