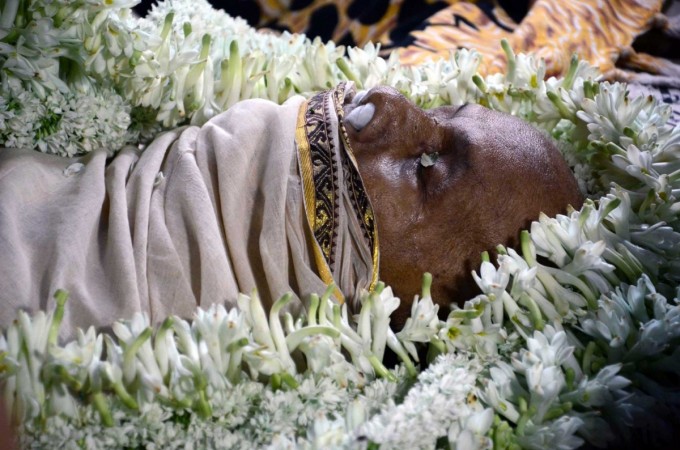 As the world mourns the death of boxing legend Muhammad Ali, another legendary strongman, Manohar Aich, the first from independent India to win the Mr Universe title, passed away on Sunday at his residence in Kolkata.
The centenarian had won the Mr Hercules title in 1950 and the Mr Universe title in 1952, in addition to three gold medals in bodybuilding at the Asian Games. The 4ft-11in-tall bodybuilder was popularly known as "Pocket Hercules" due to his tiny frame.
As posthumous tributes keep pouring in, re-examining the finer details of Manohar Aich's life reveals he had struggled to survive and raise a family at a time when bodybuilding was not a lucrative career, but his grit and perseverance led him to fight poverty and build a legacy in the face of overwhelming odds.
According to a report in the Hindu Buisness Line, Aich's list of odd jobs to included, selling green coconuts at Sealdah railway station, clerical office jobs and working as a subway conductor in London. He had also signed up as a paratrooper for the British Royal Air Force (RAF) for a Rs. 10 salary increment after his first daughter was born, and played the khol (drums) in kirtan groups.
CLICK HERE to see IBT photo story on Manohar Aich
An extraordinary life
Born in Comila (now in Bangladesh), a young Aich was forced to earn for his family after his father, an accountant, took ill. He himself was afflicted with cholera and kala-azar (black fever or visceral leishmaniasis) when he was 10. But the love for exercise and bodybuilding inspired him to devote his life to fitness.
Aich got his first opportunity to display his bodybuilding prowess at famous magician PC Sorcar's shows.
In 1942, he joined the RAF to pursue his interest in bodybuilding. But he was sentenced to 12 years in prison on charges of slapping a British officer. After Indepedence, he moved to Kolkata in 1949.
He did shows to raise the funds to go to London to compete in the Mr Universe competition. The then West Bengal chief minister Bidhan Roy gave him Rs 200.
He came in second in the competition in 1951, but stuck it out in London for another year. He would do shows with Reg Park, Mr Universe of 1951, to raise money. They billed themselves as Mr Tall Great and Mr Little Great. He went on to compete four times for the title, itself a record for an Indian, and found a place in the first four each time.
After winning the Mr Universe title in 1952, he came in third and fourth in 1955 and 1960, respectively. His statistics were awe-inspiring: biceps 46cm, chest 1.2m when swollen, forearm 36cm and wrist 16.5cm.
The victories brought him fame but no sponsorships, advertisement deals or gym franchises.
"I remember going to his house," Mr India 1966 Kshitish Chatterjee was quoted as saying in a FirstPost report on the eve of Aich's 100th birthday. "His wife would get naari bhuri (innards) for two annas and fry them up. He never did the high-protein diet. He never had the money. This was the state of the Mr Universe."
Aich set up a physical fitness club — Studio de Physique — in Kolkata. Later he dismantled it and re-established it at his residence in 1959. "It takes time for a physical fitness club to become popular in Baguihati, even if it is run by Manohar Aich," said his daughter Bani Banerjee.
With no steady income in place, Aich returned to public performance — in International Circus and Oriental Circus, among others — and earning anywhere between Rs. 1,500 and Rs. 3,000.
He even set up his own Biswasree Circus, but without much luck.
"My father used to show his muscle in the circus," reminisced Manohar's son Bishnu in an interview with First Post. "He would lift 600 pounds on his shoulders. That's how he earned money."
He also asked crowds to shout out letters of the English alphabet during his muscle shows. Then he would bend six-inch nails into those shapes with his bare hands.
Aich attempted politics as well, but lost the Lok Sabha elections after contesting on a BJP ticket. According to a report in TOI , Aich gave his last performance at in 2003.
Aich's legacy lives on through his students, including eight-time national bodybuilding champion Satya Paul and former Mr Universe Premchand Dogra, and hundreds of others who flock to Bishnu Manohar Aich's Fitness Centre & Multigym to follow in the footsteps of their idol.