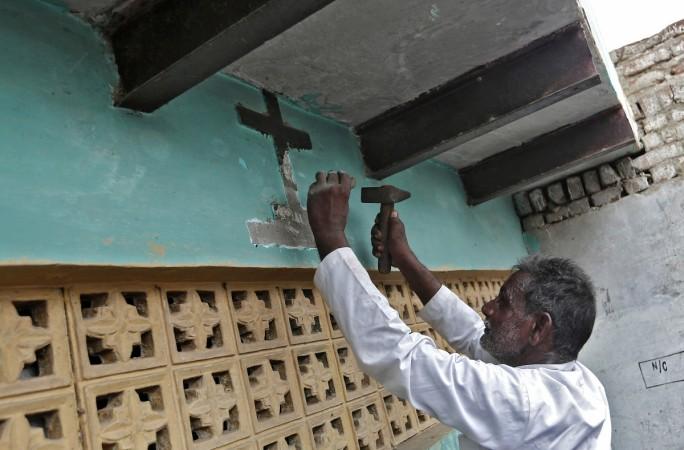 It seems "mission conversion" continues to retain momentum.
Hours after the Agra police on Tuesday arrested Nand Kishore Valmiki, accused of spearheading religious conversions in the city, Hindu outfit Vishwa Hindu Parishad (VHP) has declared to conduct "ghar wapsi" ("bringing non-Hindus back into Hindu fold") in Rae Bareli.
"Yes, we have identified 60 to 65 families having members who have become Christian or Muslim in the recent past," Hindustan Times quoted VHP Rae Bareli unit chief Harish Chandra Sharma as saying.
These families "include girls, who may have converted to get married to a Muslim boy and are now willing to return to Hinduism following failure of their marriage. We have already successfully brought five to six converted families back to Hinduism by now," he added.
Incidentally, Rae Bareli is represented in the Lok Sabha by Congress president Sonia Gandhi.
The VHP leader's comments come after Balmiki surrendered at the Hari Parbat police station early in the morning, PTI reported.
An FIR was registered on 9 December against Dharam Jagran Manch and its UP convenor Balmiki for the mass conversions, which were allegedly forced on the Muslim families.
Two outfits - an offshoot of the Rashtriya Swayamsevak Sangh (RSS) Dharma Jagran Samanvay Vibhag and Bajrang Dal, youth wing of VHP claimed to have converted 57 families in Agra to Hinduism.
After receiving a complaint from one of the converts, Ismail, the police registered cases under Section 153 (A) (promoting enmity between different groups) and Section 415 (using fraudulent means) of the IPC.
VHP too claimed the same and said they are not luring the families to change their religious faith. They said they are reconverting those whose ancestors were originally Hindu before being forced to convert to Islam or Christianity.
"We are taking up only recent cases as reconversion of old cases becomes difficult. We may be able to achieve our target of converting 100 such families in Rae Bareli by January 2015," said Sharma.