Reliance Jio JioPhone pre-bookings have been suspended temporarily after the site went down due to huge volumes of requests flooding the site within minutes of launching the service on August 24 at 5:30pm. As the pre-bookings are no longer accessible due to technical constraints, the company is allowing prospective buyers to register their interest and check the device order status online.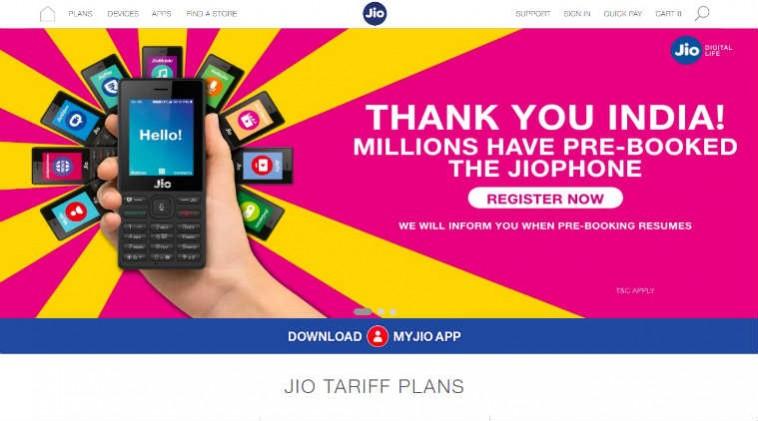 Although there is no official word on when the users will be allowed to the book device again, the company has clearly mentioned on the site that the users will be informed once the pre-booking resumes. Congratulating millions of Indians who have already booked the Jio 4G VoLTE feature phone, here's what Reliance Jio posted on its official website: "Thank You India! Millions have pre-booked the JioPhone."
Users who want the phones can now register their interest for the JioPhone by visiting the Jio.com portal and clicking on the Register Now tab.
You will then be redirected to another page wherein you are required to fill in the form with the necessary individual details including first name, last name, email, phone number and pin code. Corporate users who are interesting in buying this phone for business purpose are required to fill in the company name, PAN number, number of devices required, etc. Finally, accept the terms and conditions of the offer and you are done.
How to check JioPhone pre-booking status
One can check the JioPhone pre-booking status by dialling the number '18008908900' and sharing your registered mobile number. This works through the MyJio app as well and you can check the JioPhone booking status via 'My Vouchers' tab.
Reliance Jio phone is one of its kind offer with tons of bundled features such as 4GVoLTE connectivity, pre-installed set of Jio apps like JioMusic, JioCinema, MyJio app and more. Power users can also use voice commands in English or Hindi for performing particular tasks such as calling or messaging a contact in the phonebook or playing a media file via JioMusic app.
Reliance Jio is available for booking for an upfront token amount of Rs. 500 and the balance of Rs. 1000 as security deposit needs to be paid up at the time of receiving the JioPhone delivery. Effectovely, the phone is a zero cost phone with the security deposit being refundable after three years of completing the contract with Reliance Jio.