The battle between Airtel and Reliance Jio is an intense one as the Indian telecom sector underwent massive changes over the past year. India's leading telecom operator, Airtel, was threatened by Reliance Jio's entry with attractive 4G offers and free voice calls, but the former seemed to hold ground with its years of experience.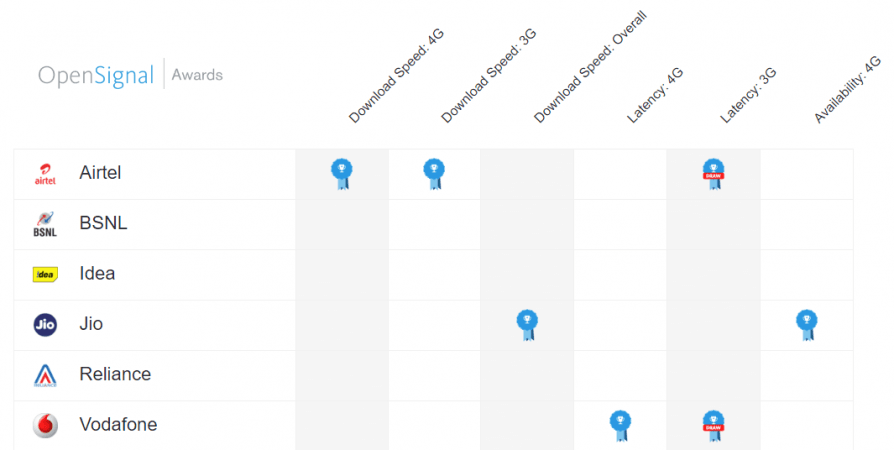 With the current competition, Airtel's data and voice call bundles come quite close to what Reliance Jio is offering at the moment, so the focus is now slowly shifting towards quality over quantity.
According to OpenSignal's latest report, Airtel scores 9.15Mbps in average download speeds for 4G networks, while Jio came at a distant fourth position with an average speed of 5.81Mbps. Vodafone and Idea came in second and third positions with 7.45 and 7.4 Mbps, respectively.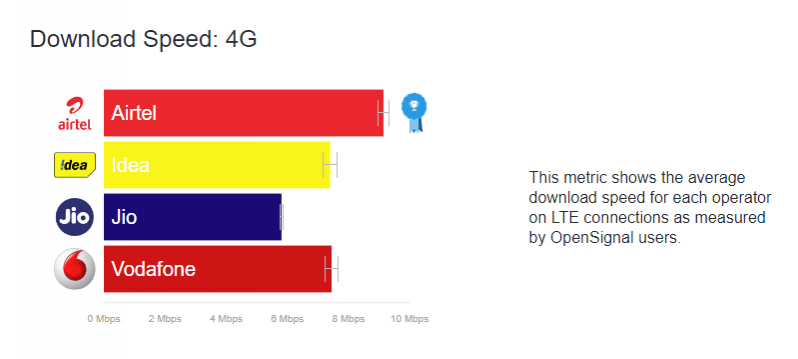 The statistics were based on 7,369,029,252 measurements from 7,08,504 devices from June 1 to August 31, 2017. The report also reveals Airtel as the best 3G network with a speed of 3.62Mbps while Vodafone came at a close second with 3.12Mbps download speed in India. Reliance Jio could not be included in this metric due to its 4G-only network.
Despite the average download speeds favouring Airtel, Reliance Jio is not a loser. While considering the overall internet speeds on smartphones, the average download speeds for Airtel, Vodafone and Idea dipped extensively.
While Reliance Jio's overall download speeds remained 5.8Mbps, Airtel dipped to 3.6Mbps.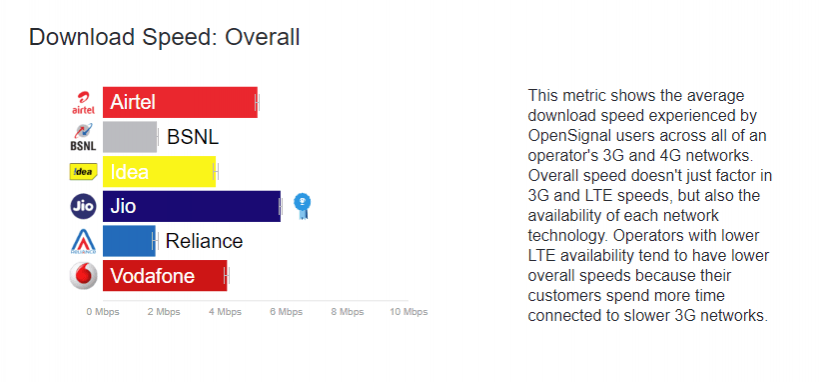 OpenSignal closely monitors the dynamics of mobile data in India, and when it compared the latest reports with earlier ones, there were some shocking revelations. Even though Jio's 4G speeds lagged behind Airtel 4G and Vodafone 4G, the new telco's numbers have improved dramatically from 3.9Mbps to 5.8Mbps over the past few months.
Sadly, the same cannot be said about Jio's chief competitor Airtel, whose 4G speeds have dipped from 11.5Mbps to 9.1Mbps.
Even so, India's 4G picture is not as great as the numbers look. "No operator we tested in India exceeded either the global 3G download average of 4.4 Mbps or the global 4G download average of 16.2 Mbps that we measured in our last State of LTE report," the study revealed.
Coverage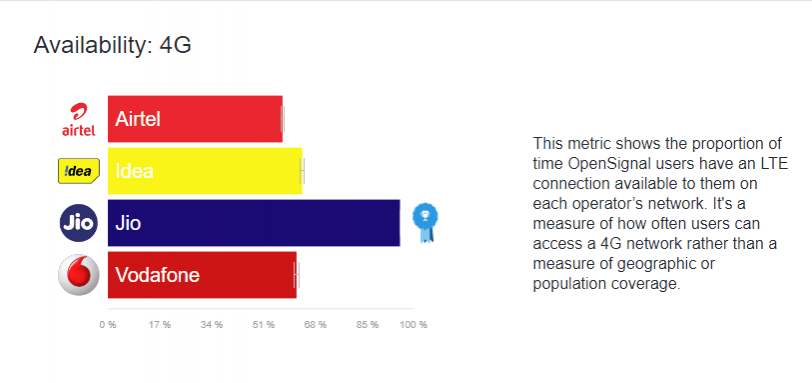 While speed is one factor, availability of the 4G network is another. In this battle, Reliance Jio beats Airtel by a huge margin. While Jio's LTE connects users 95.6 percent of the time, Airtel is only available 57.2 percent of the time, OpenSignal report stated.