It's been more than three months since Reliance Jio kicked off the registration for the GigaFiber broadband service across 900 cities in India, earlier this year on August 15.
Since then, several thousands of people have enrolled for the Intenet service. The company had announced the users to encourage their neighbours and also their relatives, who stay nearby their house to register for the service.
So if there is a high demand in a particular area of the city, then Reliance Jio will commence the work there first. But, it's been more than three months and there is no word when the actual internet service will commence.
Now, a Reliance Jio community blog has revealed that the company plans to initiate the GigaFiber service in 29 cities initially and later expand to other regions of India.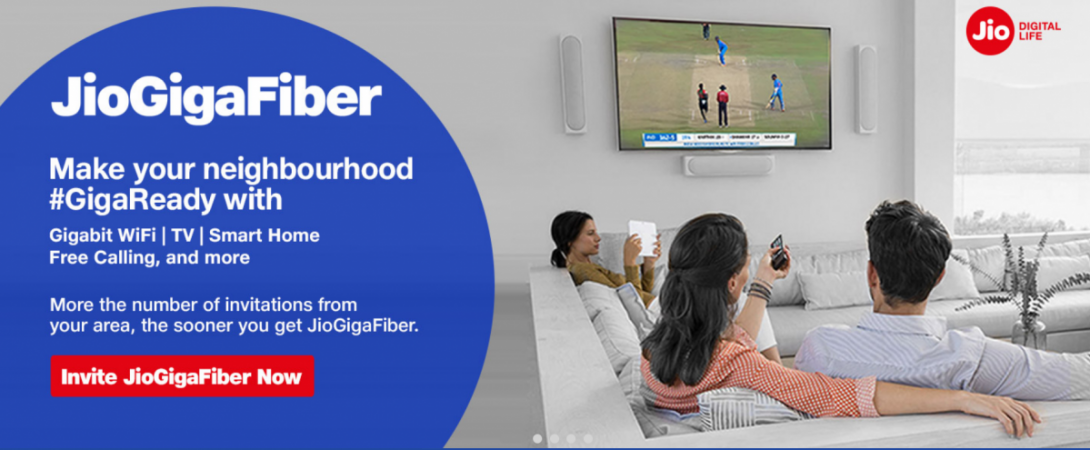 Here's the list of Indian cities set to get Reliance Jio GigaFiber service first:
Bengaluru, Chennai, Pune, Lucknow, Kanpur, Raipur, Nagpur, Indore, Thane, Bhopal, Ghaziabad, Ludhiana, Coimbatore, Agra, Madurai, Nashik, Faridabad, Meerut, Rajkot, Srinagar, Amritsar, Patna, Allahabad, Ranchi, Jodhpur, Kota, Guwahati, Chandigarh and Solapur.
This list is a bit intriguing given the fact India's capital New Delhi and financial hub Mumbai are missing, but their adjoining cities are named to get GigaFiber. It is likely that the community's admin missed out these cities by an oversight.
We have to wait a few more weeks to know what Reliance Jio has in store for the consumers in India.
Reliance Jio GigaFiber preview offer:
As per reports, Reliance Jio will initially offer free broadband service for the first three months with 100Mbps speed and the data cap of 100GB per month. If the customer exhausts the limit, he or she can opt for top-ups, which adds 40GB to subscription.
Users can request for more top-ups of up to 1.1TB per month during the trial period. The best part is that it will be free of cost, Telecom Talk reported citing reliable company insider.
But, there's a catch; the customer will be charged Rs 4,500 for installation. On the bright side, it will be refunded if the consumer discontinues the service after the free trial period. They will also have to return the devices — GigaRouter and GigaTV — in working condition with no physical damage.
Reliance Jio GigaFiber service details:
For the uninitiated, Jio GigaFiber consumers are entitled to get Jio GigaRouter, which promises high-speed wall-to-wall wireless internet connection throughout the home. Users can also subscribe to GigaTV set-top box with all channels, on-demand video (also available in 4K), music content, support voice-command in multiple regional languages and TV video calling (compatible to any smart devices including smart TVs powered by Jio GigaFiber and even phones under another network carrier).
The company has also announced to offer Smart Home solutions, which include an audio dongle, video dongle, smart speaker, Wi-Fi extender, smart plug, TV camera, outdoor camera security, door sensors and motion detection. The best part about this is that the engineers will be able to assemble them within an hour.