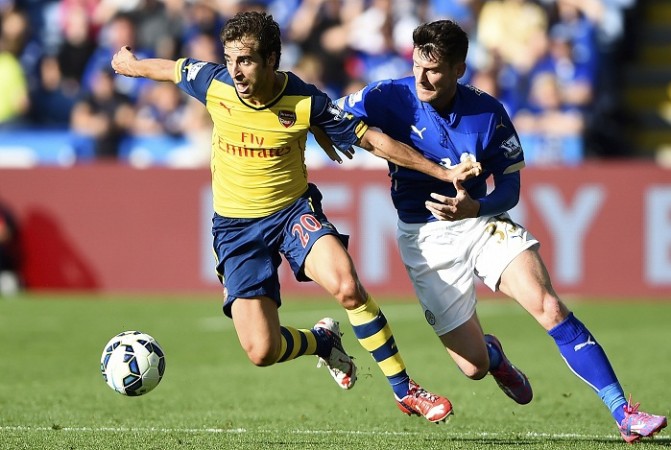 Arsenal have made the headlines so far for completing the impressive transfer of Petr Cech from Chelsea, with Arsene Wenger expected to sign a couple more world-class talents before the summer transfer window shuts.
However, with a bloated squad already at Wenger's disposal, plenty of players are also expected to leave the Emirates, that is without counting Abou Diaby and Ryo Miyaichi, who were allowed to leave after their contracts with the club expired.
On the chopping block definitely it seems are Lukas Podolski and David Ospina, while Mathieu Flamini, Yaya Sanogo, Joel Campbell and Carl Jenkinson could all also ply their trades with other clubs next season, according to the Daily Express.
Podolski is closing in on a move to Galatasaray and the former Bayern Munich forward confirmed he is in talks with the Turkish club.
"Yes there have been meetings with Galatasaray," Podolski told Galatasaray's official channel. "I hope the transfer happens. I'd love to play at Galatasaray. The fans are great. They showed a great interest in me on social media."
A fee of around £2million has been agreed, which does seem a little bit on the lower side, even if the Germany international only has a year remaining on his current contract. Wenger, however, will be keen to get the forward's £100,000 a week wages off the books as soon as possible.
Joining Podolski on the flight to Turkey could be Ospina, with the Colombia international expected to be the one sold, after Arsenal signed Cech from Chelsea.
Ospina was pretty steady in goal for the Gunners last season, but a £4m move to Besiktas is reportedly close to completion.
Flamini could also be on his way out of the Emirates. The French midfielder has a year to go on his contract, but with Wenger expected to sign a holding midfielder to compete with Francis Coquelin, and with Mikel Arteta signing a contract extension, Flamini will find it difficult to get game time next season.
Much will depend on if Wenger can sign a new defensive midfielder this summer – the likes of William Carvalho and Morgan Schneiderlin are the names on the club's radar -- but there is a case to let Flamini go even if the manager cannot bring a player in, as there is Krystian Bielik, the January signing, waiting in the wings for an opportunity.
Campbell, of interest to Real Sociedad and Benfica, could be sold or sent on loan again, while the same goes for Sanogo as well.
Jenkinson is another player set for a loan spell, after his hugely successful one last season with West Ham. Sunderland and Southampton, along with the Hammers, are interested in signing the right-back.