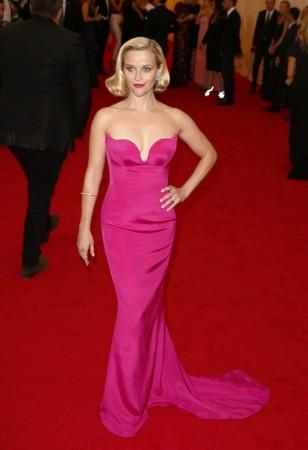 Reese Witherspoon's marriage with Jim Toth is allegedly in rumbles, according to reports. The latest print edition of celebrity Gossip magazine, Star has claimed that the couple is heading for a $100 million divorce citing constant fight as the reason for the split.
The cover page of the magazine's 29 Sept edition reads: "Constant fighting about money drinking, Reese can't take it anymore and moves to her Nashville home."
There report is not confirmed yet but it is being said that Reese's alleged drinking issue has become a problem for the couple.
"Reese and Jim's relationship is definitely not in the best shape. They've been arguing constantly and spending a lot of time apart. It's almost like they're living separate lives. No one would be surprised if they announced a separation or divorce," Celebdirty Laundry quoted a source telling Star magazine.
Meanwhile, a contradicting report has surfaced that Witherspoon and Toth recently have bought a mansion together. The couple apparently, spent a whooping $12.5 million for a new mansion in L.A., as per the reports.
Famous architect, Ken Ungar previously owned the house, which is located in one of the plush areas of L.A. The couple is going to have some A-list celebs, including Ben Affleck and Jennifer Garner,Matt Damon, Steven Spielberg and Tom Hanks, as their neighbours.
Moreover, Witherspoon is currently on a high after receiving appreciation for her performance in her movie, "Wild." The film got a standing ovation at the International Toronto Film Premiere. The actress has some wild sex scenes in the film but said that her husband is very supportive of her career.
"He's always very supportive," she told PEOPLE on the red carpet of the film's premiere. "I'm very lucky to have a supportive husband."
Witherspoon plays an author, Cheryl Strayed in the film, which is based on Staryed's novel about a woman who takes a journey after divorce, death of her mother, and years of wild negative behavior.
Witherspoon's representative is yet to comment on the alleged divorce rumours. She was married to Ryan Phillippe before marrying Toth in 2011.