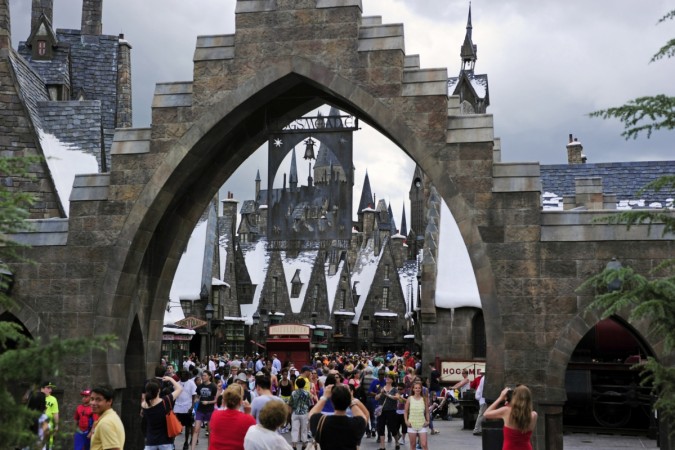 Movie buffs are always fascinated by the onscreen adventures shown in several fairy tale and sci-fi films, such as "Harry Potter", "Fast and Furious" and "Transformer", and the best way to experience it is through film-based amusement park rides.
From Disney to Universal, all the biggest entertainment companies have their own theme parks based on their popular films. The latest one to join the list is "Flight of the Hippogriff", which will be launched by Universal Studios Hollywood in 2016.
Here is the list of some amusement park rides in Universal Studios:
Back to the Future - The simulator ride, inspired by the film series of the same name, was initially opened in Florida on 2 May, 1991. Later on, it was introduced to Universal Studios in Hollywood and Japan.
Battlestar Galactica: Human vs Cylon – The tallest dueling roller coaster in the world is located in Singapore. Some of the attractions include inverter blue tracks and high-speed acceleration during launch.
Despicable Me: Minion Mayhem – The simulator ride was initially launched in Florida and introduced in Hollywood on 2 June, 2012. It is one of the rollercoaster rides by Universal Studios, which has used 3-D HD digital animation technologies.
Enchanted Airways - The outdoor rollercoaster, based on "Shrek" film series, introduces several fairy tale characters such as Gingy, the Big Bad Wolf, Pinocchio and three little pigs to the guests during the ride.
Harry Potter and the Escape from Gringotts - The 3-D motion-based dark ride is one of the flagship attractions of "Wizarding World of Harry Potter" theme park in Universal Studios Florida. With a track length 2,000 ft, the riders can experience various adventures of the fantasy film series.
Jurassic Park - The water-based amusement ride is located at Universal Studios Hollywood. During the ride, the guests can meet several popular dinosaurs, including Ultrasaurus, Psittacosaurus, Stegosaurus, Dilophosaurus and parasaurolophus.
Transformers – The 3D dark ride, inspired by Transformers film franchise, was opened to the public on 3 December, 2011.
Fast & Furious — Supercharged: The epic ride reunites stars from the "Fast & Furious" series in a mega attraction designed to let guests experience the world of street racing at 120 miles per hour. This ride has been conceived as a new installment to the "Fast & Furious" franchise and will debut as the grand finale to Universal Studios Hollywood's behind-the-scenes Studio Tour tram ride.