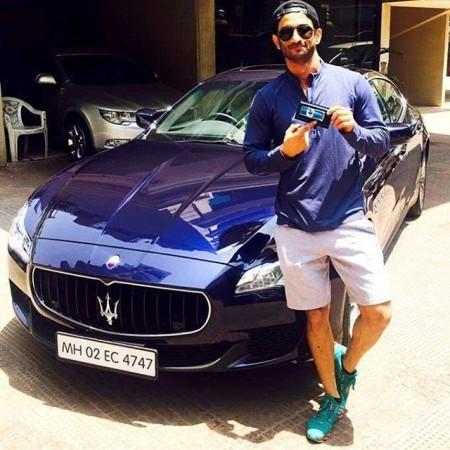 For several months now, Sushant Singh Rajput's Chanda Mama Door Ke has been on hold.
While the preparations for the movie had kicked started with a bang with Sushant - who plays the role of an astronaut - getting trained in NASA for his character, no further updates regarding the project was out for long.
But now, a source close to the project revealed the reason behind the delay. He told DNA that the makers had not realized the cost of production when they had planned for the movie.
"Producer Viki Rajani was supposed to bankroll the project, but now, it's stuck indefinitely. When the makers planned the movie with Sushant, they didn't understand the landing cost. Once they drew up the budget, they were shocked," the source told the daily.
The source further said that the amount was too high for the Sushant starrer and recovery would be quite difficult. "It would've cost the makers almost Rs 67 crore, without the additional promotional costs. The recovery for such a film would be extremely difficult. But even then, Viki made efforts to get investors. Nobody wanted to finance it as it seemed like a loss-making project. Everything just wasn't adding up," the source added.
It now remains to be seen if the makers manage to get more financers for the project or will they replace Sushant with a bigger star? Only time will tell.
Meanwhile, Sushant had been very excited for the movie. The MS Dhoni: The Untold Story actor had earlier revealed in an interview with IANS that he would be at the facility for a month where he would be experiencing zero gravity and trained to get the body language and mindset of an astronaut right. "For the first 18, 19 years of my life, I have been studying all these theories of (Isaac) Newton and (Albert) Einstein. Now for the very first time, I will go there and experience all these things that so far was only in my head. I will experience zero gravity for the first time and I will experience how does it feel to walk on the moon," the actor had said.
Coming to Sushant's another project Kedarnath, which too was stalled after director Abhishek Kapoor decided to part ways with the producers Prernaa Arora and Arjun N Kapoor of KriArj Entertainment, now has a new producer.
According to reports, Ronnie Screwvala has come on board the project as a producer and the shoot will resume soon.