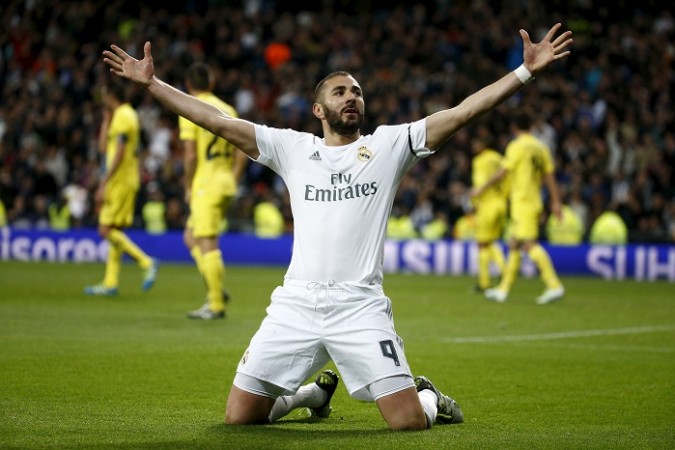 Real Madrid were hoping for a slip from Atletico Madrid and Barcelona in their respective matches on Wednesday, while winning their game against Villarreal to top the La Liga table. However, all three teams won their matches, which means Real Madrid are still one point away from the top.
Real Madrid looked in complete control as they got past Villarreal with an emphatic display in front of their home crowd. Real Madrid won the match comfortably with the score reading 3-0.
The home team, despite their early attempts on goal, could not break the deadlock early on. The Yellow Submarine defenders were solid and strong at the back for most of the first half, and were frustrating players like Karim Benzema and Cristiano Ronaldo. But, the Frenchman gave them the much-awaited lead in the 41st minute, via a close-range header.
Real Madrid manager, Zinedine Zidane was full of praise for his striker, who has been an important player for them this season, assisting goals and finding the back of the net.
"He is a very important player, perhaps he is more important than ever. He does an excellent job. He scores, assists, and helps everyone play better. The forwards are doing a fantastic job, as are the midfielders and defenders. They all did very well, including those who came off the bench," club's official website quoted Zidane as saying.
Real Madrid deserved the lead in the first 45 minutes, considering they enjoyed 66% possession.
After the break, Luka Modric came close to doubling the lead in the 51st minute, but his shot went just wide. But the hosts more or less sealed the game in the second half, as Lucas Vasquez fired in the bottom corner for a 2-0 lead in the 69th minute.
Zidane's team continued the pressure, searching for their third goal, and the Croatia international Modric scored the goal of the night in the 76th minute. Modric showed great technique as he volleyed the ball in.
The 3-0 win was their 11 straight victory in all competitions. With such form, Real Madrid are maintaining the pressure on Barcelona and Ateltico Madrid in the title race.
"Nothing has changed, we are one point away from them. We will keep going with our ideas and our football. We will continue with what we have been doing recently, nothing has changed," Zidane said.