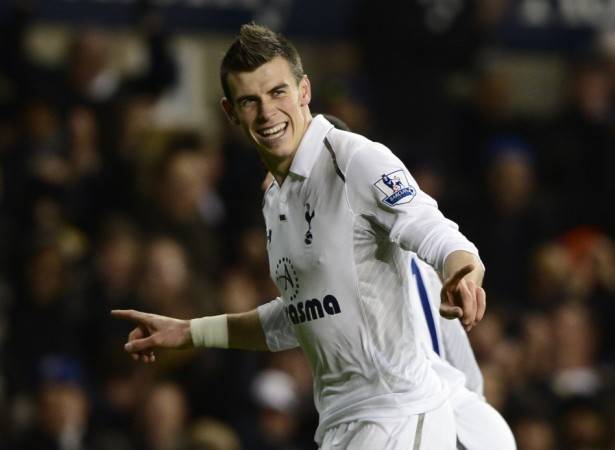 After their £81m bid was turned down, Real Madrid have reportedly placed a fresh world record bid for Tottenham's Gareth Bale, and this time it could happen.
It is reported that Real Madrid's new boss Carlo Ancelotti has placed a world record £85million bid for the 24-year-old Welshman, an offer that Tottenham would find difficult to reject.
The Spanish giants would offer £51m cash plus Angel Di Maria and Fabio Coentrao, to take the deal to £95m for the winger from Wales, reported The Sun earlier. "Bale is the chosen man. Efforts to sign him will continue. We are hopeful a deal can be done soon," a source from Real Madrid told the daily.
Harry Redknapp, former manager of Tottenham has said that it will be difficult for Bale to reject Real Madrid's offer.
"I think it'll be difficult for him not to go now. I think he wants to go if we're truthful," Redknapp told BBC. "He doesn't want to say it, but I hear from different sources that he really wants to go now."
He went on to say that everyone dreams of playing for Real Madrid as a kid.
"When you're a kid and you start playing football you dream about playing for Real Madrid," said Redknapp, adding, "When I was a kid I saw that great team of Ferenc Puskas, Francisco Ento, Alfredo Di Stefano. Real Madrid is a special club. The chance to run out at the Bernabeu only comes once in a lifetime, as [former France and Real midfielder Zinedine] Zidane said the other day, you can't not take it."
Spurs manager Andre Villas-Boas had insisted that Bale is the asset of the club but Spanish newspaper, Marca reported that the young winger has expressed his desire to join Real Madrid to Tottenham's chairman Daniel Levy though he is yet to place a transfer request.
Gareth Bale has also been linked to Barcelona, Manchester United and Manchester City.