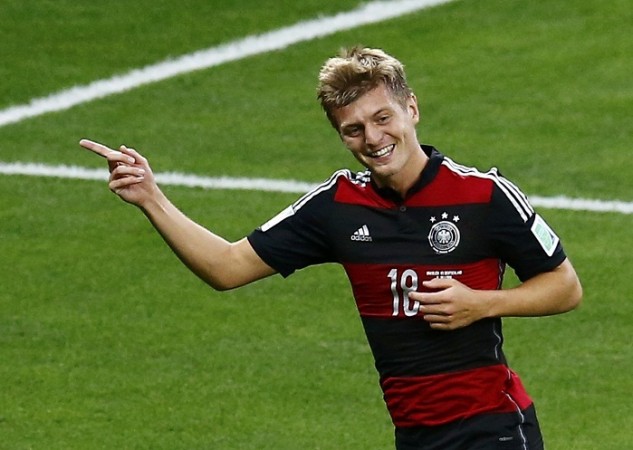 Toni Kroos might have been a little premature in confirming his move to Real Madrid after playing a starring role in Germany's march to the FIFA World Cup title, with the midfielder's current club Bayern Munich insisting the deal was far from signed, sealed and delivered, with talks ongoing between the two European giants.
Kroos has gone from strength to strength over the past few seasons, with the 24-year-old turning into the complete midfielder, who makes his team tick with his astute passing and prowess with the dead ball.
The Germany international was a vital cog in Bayern's dominance of the 2012-13 season, while also playing a key role under Pep Guardiola. However, with contract talks stalling as Bayern refuse to meet the player's demands a move away from the Allianz Arena was always on the cards.
Manchester United were the initial favourites for Kroos' signature, with Real Madrid now jumping ahead of the queue to sign one of the best midfielders in Europe for a reported £20 million fee, after the World Cup winner, following Germany's win over Argentina in the final on Sunday, revealed he was switching to the Spanish capital from Bayern.
Bayern Munich chief executive Karl-Heinz Rummenigge admitted the Germans were in contact with Real over a summer move for Kroos.
"Nothing is official yet, however he could be sold for a certain fee," Rummenigge was quoted as saying by Teamtalk. "I can confirm that Toni and us are in talks with Real Madrid."
Bayern are not a selling club and don't usually let go of one of their best, most consistent players, but Rummenigge admitted the Bundesliga champions were left with little choice after failing to come to a new contract agreement with the player. Kroos will be able to walk away for free next summer if Bayern hold firm and refuse to sell their player.
"It is clear we do not want to lose the player for free next year," he added. "We have a financial responsibility towards our club.
"Let me put it this way, we were not able to achieve [an agreement over a new contract). And then you can't exclude a transfer after the World Cup. It is possible this will happen."
If Kroos does make the move over to the Bernabeu, as expected, Real might consider letting go a midfielder of their own with Sami Khedira heavily linked with a transfer to Arsenal, while Angel Di Maria has also been tipped to make his exit from Madrid with Manchester United and Paris Saint Germain reportedly showing an interest.