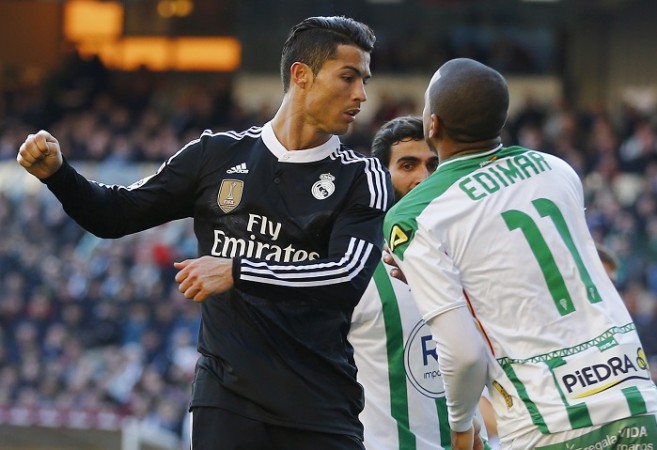 The Spanish FA have handed a two match suspension to Real Madrid star Cristiano Ronaldo for his violent outburst during the Los Blancos' 2-1 La Liga win over Cordoba on Saturday.
Referee Alejandro Hernandez was left with no choice but to show Ronaldo a straight red card after the Portuguese committed a series of disciplinary violations, kicking left-back Edimar and raising his hands twice into the face of defender Jose Angel Crespo.
Although initially there were fears that Ronaldo would be handed a lengthy ban by the Spanish FA for his violent conduct during the game, referee Alejandro Hernandez's report resulted in the 29-year-old getting away with a two match suspension.
Hernandez, who seemed to have missed Ronaldo's lash on Crespo, submitted a report, claiming that the 2015 Ballon d'Or winner was only sent off for kicking Edimar.
"In minute 83 the player Cristiano Ronaldo was sent off for the following reason: kicking his rival off the ball," read the referee's report, according to ESPN.
Although the Spanish FA's disciplinary committee could have asked Hernandez to elaborate on his report, they decided to punish Ronaldo only for the kick.
Ronaldo has issued a formal apology on social media, asking forgiveness for his rash behaviour during the match.
"I apologise to everyone and especially Edimar for my thoughtless act in the game today," Ronaldo posted on Twitter.
Meanwhile, Gareth Bale has dismissed all the rumours of him joining Manchester United.
Despite the Welsh winger's current contract only expiring in 2019, he was being strongly linked with a return to the Premier League to join Manchester United.
However, the former Tottenham man has dismissed all the links, insisting that he is perfectly happy at Real Madrid.
"I don't see myself at Manchester United," Bale told the Guardian. "In a recent interview I was asked if I was not happy at Madrid but I told them that I am very happy here."
"I have many years left on my contract. I feel the support and love of the fans at the Bernabéu stadium."
The 25-year-old, who has won a number of trophies including the Copa Del Rey and the Champions League with Real Madrid since his €100 million switch from White Hart Lane in the summer of 2013, says that he is aimimng to win more silverware with the Los Blancos.
"I hope I can continue to work in order to prove what I'm capable of doing on the pitch and to win as many trophies as possible. The fans are amazing. I love when we play at home," he added.
"I'm having a good time, we are winning trophies and I want to continue to do this here, at Real Madrid."