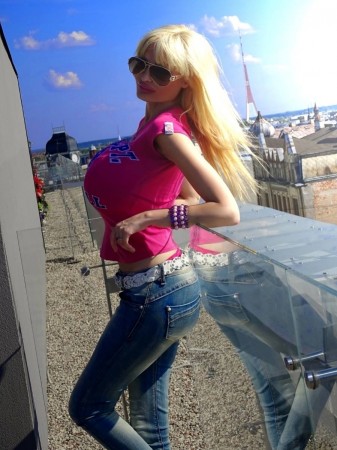 Only a couple of weeks after a transgender woman from Miami, Florida, garnered jaw-dropping reactions for spending 60,000 pounds to enhance her derriere, a 30-year-old model has reportedly spent £30,000 to transform herself into a real-life sex doll.
Victoria Wild underwent several surgeries to ensure that her big puts, huge breasts and freakishly long lashes make her look just like a sex toy.
To attain her body that looks far from real, the model underwent three surgeries for breast enhancement, rhinoplasty, bottom implants and lip surgery.
The model with an incredible breast size 32G, is a resident of Cannes, France. She was able to raise money for her surgeries by saving money from her various modelling assignments and also with the help of her boyfriend Simon, an Italian businessman. She met him at age 25 and ever since then, Simon has only supported and encouraged Wild in attaining her dream looks.
"Who wouldn't want to be treated like a bimbo doll? It's such a sexy look. People stare at me in the street and I love the way I stand out", wild was quoted as saying by Metro.
Wild's obsession with looks like those of an inflatable sex doll apparently started when she was just a teenager. She had gone visiting Latvia at the time and was suffering from inferiority complex. However, due to her blonde hair and lean body, she was still called a Barbie by people who knew her.
"I didn't know about plastic surgery at that age but I would always dream about resembling a sexy bimbo doll with huge breasts and insanely big lips. I loved the way dolls looked and how sexy they were. They are so bright and bold. It was this fantasy in my head", Wild said.
Wild further said that her looks bring her confidence she never had before and that her boyfriend Simon absolutely loves the way she looks and is also proud of the attention Wild brings.
"I get more glamour model work because how I look too. I would love to become famous for being a sex doll."
Wild is not the first woman to have garnered attention and fans for her looks. Ukraine's Valeria Lukyanova is another model who is pretty famous on social networking sites and other Internet platforms for her surreal looks. Lukyanova has made headlines very frequently in the past, but never admitted undergoing any surgery to get her impossible Barbie doll body.