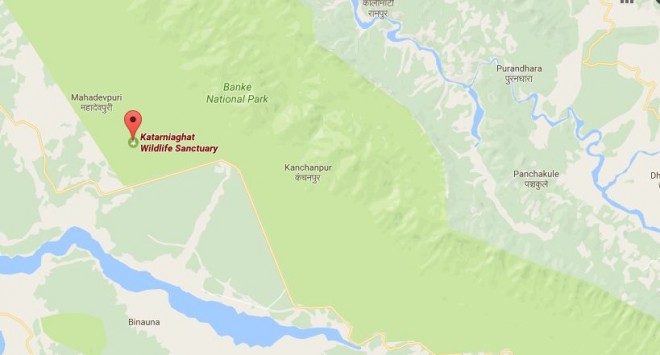 An eight-year-old girl was found in the company of a troop of monkeys at the Katarniaghat Wildlife Sanctuary in Bahraich in Uttar Pradesh. The girl cannot speak or behave like normal human beings and gets scared at the sight of them. She cannot understand any language either. Such children are called feral children, who are almost unheard of.
Sub-inspector Suresh Yadav spotted the girl two months ago during a routine patrol in the sanctuary's Motiput range. The girl screeched at him when he tried to rescue her. She was found to be comfortable in the company of the monkeys. However, the Uttar Pradesh Police managed to rescue her from the monkeys despite a stiff resistance in January and admitted her in a district hospital in Bahraich.
According to the doctors who are treating her, the girl gets violent frequently and is unable to communicate. She eats directly from her mouth and walks like an animal using both her hands and legs. She also has marks on her skin and has lived with animals for quite some time. She screams when humans go near her due to which giving a proper treatment has become difficult, Chief Medical Officer DK Singh told the media.
"She had unkempt nails and hair and there were wounds all over her body...our priority as of now is to give her proper medical care and look for her parents," ASP Dinesh Tripathi was quoted by the Indian Express as saying after the girl was rescued. Meanwhile, Singh added that she has shown signs of improvement and is in a better condition now.
The case is similiar to 'The Jungle Book', written by Rudyard Kipling, in which the main character 'Mowgli' is raised as a man-cub by a pack of wolves in the 'Seeonee hills'.