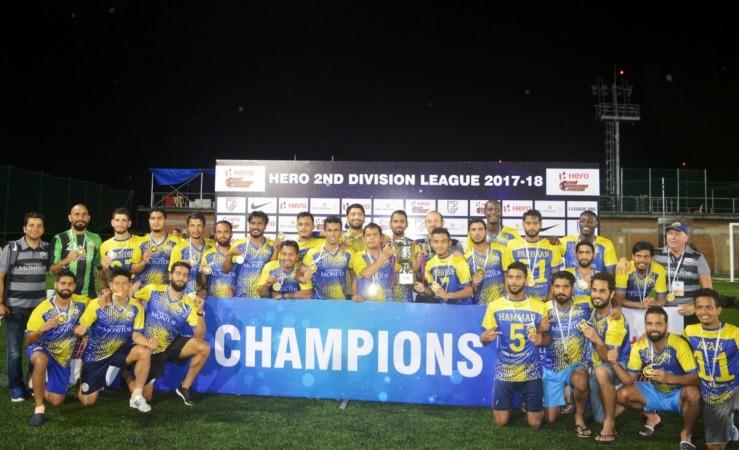 A group of young men seemingly have taken it onto themselves to instil in the Kashmiri youth a new found passion for the game of football amid the news of killings, shutdowns that otherwise seem to have become the norm here.
Srinagar based football team, Real Kashmir FC formed only three years ago, defeated the defending champions Minerva Punjab in the first division of India's premier football tournament, I-league, which has evoked positive reactions from all the camps in the Valley.
The meteoric rise of this football club which was formed in 2016, when Kashmir remained shut for most parts of the summers after the killing of top Hizbul Mujahideen commander, Burhan Wani has astonished everyone from professionals to a commoner.
A Srinagar based journalist and an entrepreneur, Shamim Mehraj, who is the President of the club, partnered with a friend to help the team ascend the journey to India's top football league.
After a fascinating performance, the newbies were soon promoted to the first division of I-league for a dream debut.
The turning moment came when David Robertson, was assigned the job of Real Kashmir FC's coach and manager. Robertson brought with himself the expertise of handling and playing for international football clubs.
The players also got to play on international turfs which Robertson deemed necessary. He also played a couple of foreign players and a few others from national clubs.
But the involvement and the contribution of the local players to the success of Real Kashmir cannot be undermined.
This was not the birth of football in Valley but a revival after nearly two decades. Football's origin and love in Kashmir date back to the 19th century when a foreigner, Tyndale Biscoe, founder of a Srinagar missionary school introduced his boys to the football.
Over the years, Biscoe boys who joined colleges across the valley played football, travelled across the country with other colleges and universities. The love for the game only grew and Kashmir produced a star like Majeed Kakroo, who even went on to head the national team.
But with the onset of militancy, the passion and love for the game died down. Amid violence and fear the name of downtown Srinagar's Mehrajuddin Wadoo was doing the rounds in the Indian football fraternity and he went on to play for some of the best football clubs of the country and also representing India at the international level.
Wadoo utilized his talent and experience to mentor the boys back home and soon two professional football clubs came into being.
Although everyone is stunned by the Real Kashmir FC's rapid ascent, the truth is that the boys in the Valley go through what some would deem impossible.
The lack of infrastructure at home, the constant fear of living under the shadow of gun and the long winter months have not stopped them from achieveing their dream of putting Kashmir on India's top football clubs map.