A certain WWE association has gone absolutely sour in recent days and fans are only shocked enough to predict what might be coming up in the future. WWE legend Booker T Huffman is visibly disappointed with his colleague Corey Graves and the five-time WCW champion wants a real-life fight against color commentator Corey.
Booker T, who was an integral part of the RAW commentary team, had to bid adieu to that role last month, making way for Jonathan Cochman. Corey remains to be a part of both the RAW and SmackDown Live announce teams.
Booker revealed that it was Corey, a retired pro wrestler and a tattoo artist, who made him lose his RAW commentary job and he wants to teach the 33-year-old a lesson in a street fight.
"If I got Corey Graves into a fisticuffs, I would beat him down like he stole something. I would be whoopin' his a$$ all day long. My thing is this, I'm a nice guy, until you get on my bad side. Corey Graves, I wouldn't necessarily say he's on my bad side right now, but he's the reason that I'm not on Monday Night Raw right now," Booker was quoted as saying by Wrestling Inc. as he mentioned at the Heated Conversations podcast.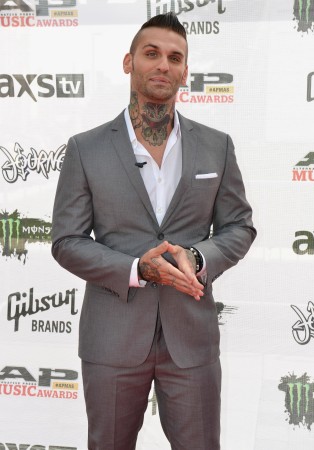 "Lot of people in the company thought I was going to jump on him. I was gonna do something bad to him. I was gonna drag him. I was gonna take him out to the woodshed. I was gonna beat that man so bad that he was going to say 'Please, please, just don't beat me anymore.' That's how hot I was getting, that's how close I was getting."
Nobody quite knows what has been the root cause of the bad blood off late but fact remains it has reached to an extent where neither Booker nor Corey can have an amicable solution over this at the current moment.
"If I catch Corey Graves on the street, I'm gonna do something to him," Booker continued. "I ain't gonna do it at the office or the airport, but if I catch Corey Graves on the street, you see that little bouffant hairdo he got? I'm gonna rearrange it for him.
"Everybody knows my reputation, I get mean, if you mess with my 'green'. And right now, my 'green' is being messed with. Is WrestleMania coming up, right?
"There's room for one more match at WrestleMania. Right now on my show, I'm calling Corey Graves out to a fight. Not a match. Not a pre-show pose down or anything like that. I'm calling Corey Graves out to a fight. I'm talking man-to-man. Mano-a-mano. You and I."
Booker is still a part of the WWE at the moment as he remains the commentator alongside Renee Young at the pay-per-view (PPV) kickoff shows.
It has to be noted that not a long time back, there was a reported heated relationship between two former WWE commentators Mauro Ranallo and 'JBL' John Bradshaw Layfield.