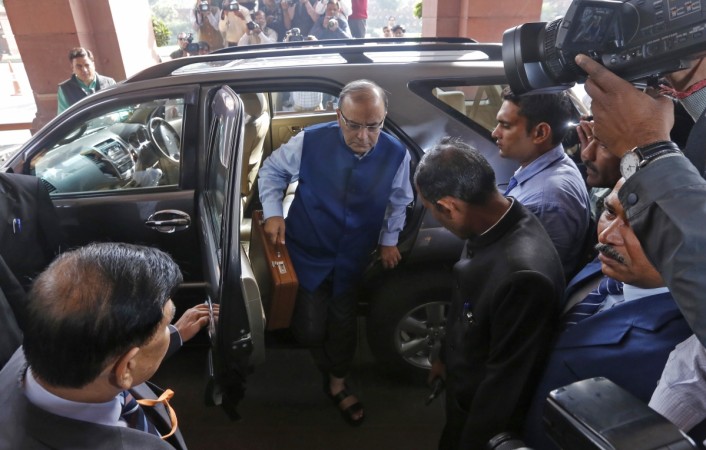 Political leaders belonging to the main opposition party, the Congress, criticised Budget 2016 Monday as incapable of providing "immediate stimulus to create disposable income in the hands of people or generate employment." The Sensex crashed 600 points after Finance Minister Arun Jaitley's Budget speech.
The Budget saw a host of reactions from leaders of political parties and the masses alike. While many lauded the investment promised towards primary and secondary sectors, the most-asked question on Twitter was: "Where is the defence budget?"
Many analysts and journalists took to Twitter to express their surprise at the missing defence budget.
The common man heaved in relief, albeit for a little while, due to increase in tax relaxations like House Rent Allowance (HRA), while expressing resentment at the increase in prices of cars, fuel and cigarettes.
Among political leaders, Congress members expressed their displeasure at the "general picture" that Budget 2016 gave. Many Twitterati expressed surprise at the "populist" budget, while the Economic Times quoted Lord Meghnad Desai as saying: "This is a political budget, an early firing gun for the 2019 elections."
Among the Congress leaders who criticised the budget, Manish Tewari took to Twitter early and condemned it as a "piece of rhetoric", while ANI quoted Shashi Tharoor as saying, "Government has painted a very general picture, have adopted many old policies of UPA. (sic)"
Leader of Opposition in Parliament, Mallikarjun Kharge, was quoted by ANI as saying: "There is nothing in this budget for anybody other than corporates close to them." The barb was clearly aimed at the BJP.
Former urban development minister Kamal Nath was quoted by ANI as saying: "There is no immediate stimulus to create disposable income in hands of people or generate employment."
Other political parties also criticised the budget.
"Prime Minister Modi said he will double the income of farmers by 2022. What is the guarantee? They want to secure their 'berth' till then, govt will fall in 2019, " ANI quoted RJD chief Lalu Prasad Yadav as saying. His coalition partner and Bihar Chief Minister Nitish Kumar said the Budget has "nothing concrete" about development in agriculture.
The Communist Party of India's D Raja was quoted by ANI as saying: "Outside budget they promised a lot to corporate sector. Not evident now. Nothing spectacular in budget (sic)."
Meanwhile, the Trinamool Congress' Dinesh Trivedi said: "Its not a budget which will boost growth, neither one which will have ease of doing business."