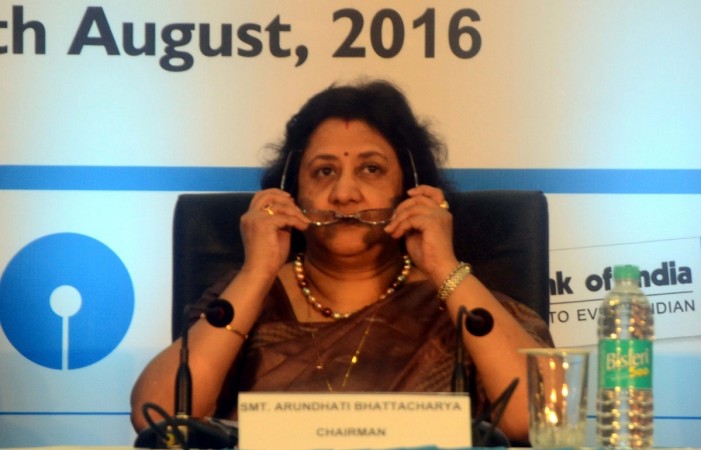 State Bank of India (SBI), the country's largest bank by assets, feels the new draft guidelines put up by the Reserve Bank of India (RBI) on lending to large corporates tantamount to the central bank "nudging" commercial banks to move towards retail lending.
"The latest norms regarding lending to large corporates make corporate lending more costly both for banks as well as the borrowing companies. So, the Reserve Bank itself is nudging us towards a model that is more retail," SBI chairperson Arundhati Bhattacharya told PTI in an interview.
Currently the exposure limit is 55 percent of a corporate g'roup's capital and the RBI proposes to bring it down to up to 25 percent.
The draft guidelines were issued by the RBI on August 25, seeking responses to proposed lowering of banks' exposure to large corporates, under the "Draft Large Exposures Framework".
The final guidelines will be effective from March 31, 2019 after receiving inputs and suggestions till Sept. 15, 2016.
"The Large Exposure (LE) limit in respect of each counterparty and group of connected counterparties, under normal circumstances, will be capped at 20 percent and 25 percent respectively of the eligible capital base. The eligible capital base will be defined as the Tier 1 capital of the bank as against 'Capital Funds' at present," the RBI draft guidelines said.
Bhattarcharya said that SBI is comfortably placed with regard to its retail loan portfolio that increased by about 20 percent last fiscal. She had recently suggested that retail lending, currently at 10 percent in India, is low compared to emerging markets such as Malaysia and offers a vast opportunity for growth given the country's demographic profile.
""I think we have still a lot of uncovered space in retail segment to grow. The median age in India is 26.5. So, obviously these are people who need these loans in order to fulfil their very many aspirations," PTI had quoted Bhattarcharya as saying on August 23.
Meanwhile, IANS reported that Bhattarcharya hinted at interest rates coming down shortly in the wake of likely change in inflation dynamics.
"Inflation will start coming down because there was a base effect in the last two months, which was actually pushing inflation up. That effect will moderate in the coming months. So, I see no reason why we shouldn't be looking at a small rate cut this year," she told the agency.
SBI share price closed at Rs. 264 on the BSE on Friday, down 1.47 percent from its previous close.