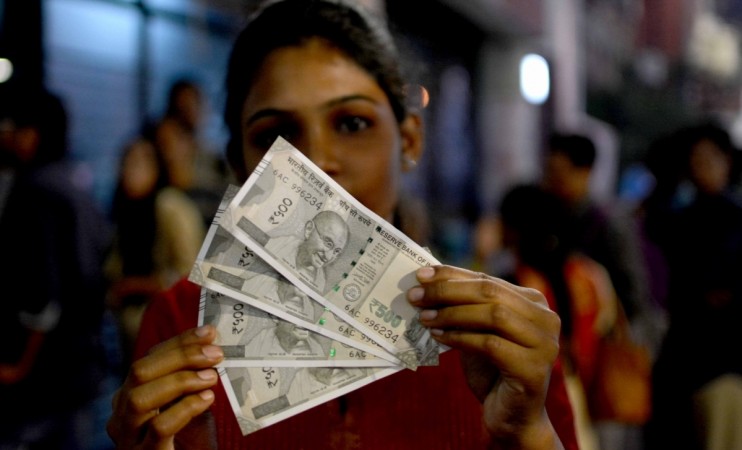 Indians may have had to part with cash running into lakhs of crores (billions) after Prime Minister Narendra Modi banned Rs 500 and Rs 1,000 notes on November 8, but cash is back into the system with a bang. In 40 days since then, 22.6 billion currency notes have been withdrawn by people at ATMs and bank branches after remonetisation, according to Reserve Bank of India (RBI) data.
"Over the period from November 10, 2016 upto December 19, 2016, banks have reported that banknotes worth Rs 5,92,613 crore have been issued to public either over the counter or through ATMs," the RBI said in its update, on Wednesday. In dollar terms, it is approximately $87.2 billion.
In terms of number of notes, the central bank said it has supplied 22.6 billion pieces of all denominations, of which 2.2 billion notes were of Rs 2,000 and Rs 500, according to the data.
"...the Reserve Bank has issued to the banks and their branches, for distribution to the public, a total of 22.6 billion pieces of notes of various denominations of which 20.4 billion pieces belonged to small denominations of Rs 10, 20, 50 and 100s and 2.2 billion belonged to higher denominations of Rs 2000 and Rs 500," the update added.
The figures were low when the previous update came from the Indian government. "People have withdrawn from Nov 10 - 18, Rs 1,03,316 crore from their accounts either over the counter or through ATMs," tweeted Arjun Ram Meghwal, minister of state for finance, on Monday.
The demonetisation drive was aimed at sucking out currencies worth Rs 15.44 lakh crore from the system in the form of Rs 500 and Rs 1,000 notes as part of a crackdown to check incidence of black money and curb corruption.
However, the drive spawned a currency exchange racket in which bank officials, including those from the RBI, connived with unscrupulous elements to hoard cash in new currencies, almost defeating the purpose of demonetisation.
A statement by the finance ministry estimated the seizure of new currency at Rs 80 crore out of a total of Rs 393 crore, as of December 16, 2016.
On the upside, the raids by the income tax department on suspected tax evaders resulted in admission of undisclosed income of Rs 2,600 crore, the statement further added.