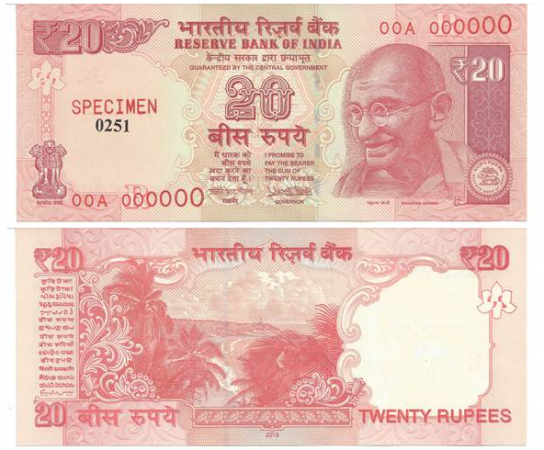 The Reserve Bank of India (RBI) will soon issue new Rs. 20 currency notes carrying governor Urjit Patel's signature. The security features and design of the new series of currency notes will be broadly similar to the existing one except for minor changes, the central bank said in a statement. The reverse of the note will have one change — the year of printing will be "2016".
The RBI said that the new series of the note will have the following features:
Obverse
Ascending font
The numerals in both the number panels will be in ascending size from left to right while the first three alpha-numeric characters (prefix) will remain constant in size.
Intaglio printing
The numeral "20", RBI seal, Mahatma Gandhi's portrait, RBI legend, Guarantee and promise clause, Governor's signature, Ashoka Pillar emblem, which were hitherto printed in intaglio (raised printing) are now being printed in offset (without any raised printing). Further, rectangular identification mark on the left of the banknote has been removed.
Colour
While there is no change in the colour at the reverse, the colour at the obverse is lighter (due to removal of intaglio printing).
Latent Image
The vertical band on the right side of the Mahatma Gandhi's portrait hitherto contained a latent image showing the denominational numeral "20".The latent image was visible only when the banknote was held horizontally at eye level. This feature is no longer present.
Urjit Patel was appointed as the 24th governor of the RBI after Raghuram Rajan's three-year term came to an end early this month.