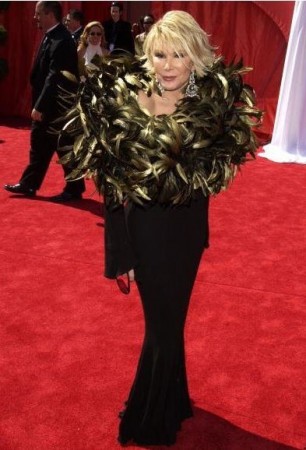 Kim Kardashian's former lover Ray J and Joan Rivers decided to re-enact a scene from the sex tape that shot Kardashian to fame in 2007 in a bid to promote the talk show host's show, "Joan & Melissa: Joan Knows Best?"
The reality show, in its fourth season, will premiere on WeTV on 29 March.
"You know what they say: Once you go black, you never go back," Ray J, whose real name is William Ray Norwood Jr., tells Rivers.
"You know what else they say: Once you go Jew, you know how to screw," she retorts.
Post the raunchy scenes, the duo sit down to talk about the benefits of dating a younger man and an older woman.
"I like older women because they know what they want, they know when they want it, and after they get it then they tell you to get out," Ray J said.
Rivers quipped that older women know what they want and it's usually dinner at 4:30 pm.
This has Ray J saying that they have the perfect relationship. "Yes. And I'm good with that because when I take you to dinner, after dinner it's 6:30 pm. We hit the bed by 7:30 pm, you sleep by 9, I'm in the club by 12. Hello! We got a perfect relationship."
Meanwhile, TMZ reported that the fake sex video has attracted the attention of Vivid Entertainment honcho Steven Hirsch. Reportedly, Hrisch met with Rivers to know if she would like to be his GILF star.
"I'd pay her $100,000 right now!" Hirsch told TMZ.
Interestingly, Kardashian, who is said to be ecstatic after landing her first-ever Vogue cover, has not reacted to Rivers and Ray J mimicking her sex tape. But fans have appreciated the effort. Although the sex tape is wrong on so many levels, many say it's worth watching.
Check out Some of the Tweets Below:
Lmaoooo omg, Joan Rivers is so evil. She and Ray J did a parody of him and Kim's sextape.

— Cam. (@cammno) March 22, 2014
@RayJ I cant believe you have made a sextape with @Joan_Rivers so disgusted that it was not live streamed!!! — Jonnie (@KingJonnie1) March 21, 2014
#WOW First Ray J had a sextape with Kim Kardashian and now Joan Rivers? #CmonMan

— $M Joe (@MJoeLetsGo) March 21, 2014