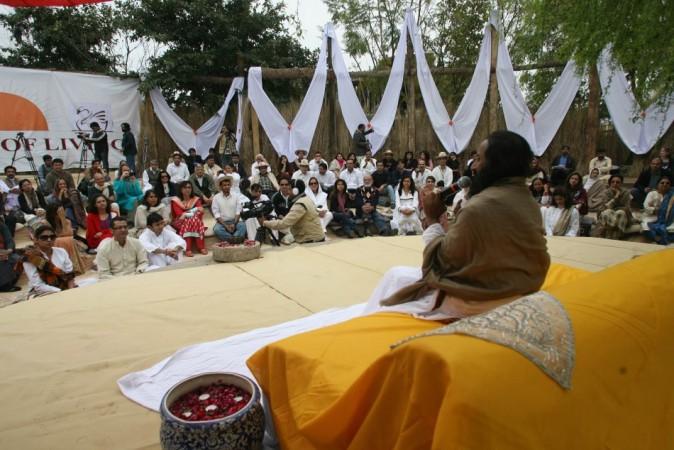 Spiritual leader and founder of The Art of Living, Sri Sri Ravi Shankar, offered to talk to Taliban to bring peace in the war-torn Pakistan.
"I am ready to go and talk to the Taliban. I want to talk to them, understand them and give them my opinion. We can definitely make a difference. We should try it again and again even if we have to try it 100 times," he said during an interaction with the public and media in Islamabad on Tuesday.
Addressing a gathering of dignitaries in Lahore, Ravi Shankar said, "My dream is to see a violence-free Pakistan and I'm sure it is possible."
He was in Pakistan on a three-day peace mission from March 12 to bring harmony in the South Asian regions.
The tone of the visit was to build common ground among the people of the two countries. In almost all his interactions, Sri Sri dispelled the notion that majority of Indians are polytheists and hence not compatible with Islamic Pakistan.
"Like Allah has 99 names, there are over 1,000 idols but God is not in them. God is one. Hindus also worship one God," said the spiritual leader.
Referring to India-Pakistan relations, Sri Sri cited the example of France, Germany and Britain living in peace after centuries of enmity and questioned why the South Asian neighbours could not do the same.
"We have spent a lot on conflicts, on escalating conflicts and on destruction of life and environment. Now we have to work towards making peace. With greater linkages between the people, India and Pakistan can both come closer and work towards a peaceful co-existence. In order to avoid other forces taking advantage of the conflict, it is important for India & Pakistan to be in mutual peace" he said on the last day of his "peace mission" in Pakistan.
"The peace centers at Islamabad and Karachi will work towards finding inner peace and fostering harmony in people, reach out to the youth and help in channeling their energy towards productive means." said Naeem Zamindar, Chairman, Art of Living Foundation, Pakistan.
During his visit, Sri Sri, also urged the Pakistanis to make space in their lives for meditation, yoga and breathing techniques and see how this would bring about a change.
Emphasizing the importance of a calm and collected mind, he said, "When decision-makers are stressed, they will project the same thing in their decisions. They should do some meditation and relax, especially when they have to make a serious decision that will impact a lot of people."
Commenting on the response he received in Pakistan, Sri Sri said, "Indian spirituality can truly unite the people of the two countries.
During his three-day visit, Sri Sri had a series of interactions with people from all walks of life, including Deputy Convener and Parliamentary leader of the Muttahida Qaumi Movement (MQM), Farooq Sattar and Pakistan Peoples' Party Advisor to Sindh CM, Sharmila Farooqi.