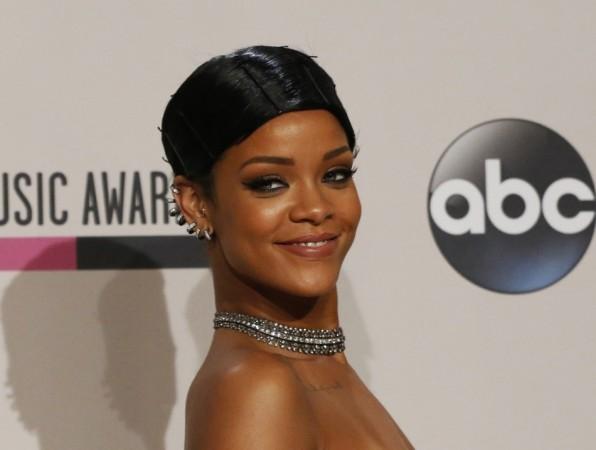 Rihanna has done it again and this time the "I Am The Only Girl" singer has crossed the dangerous line of fashion by baring her nipples through a sheer fish net top. RiRi took the skin show to a whole new level during the Paris Fashion Week, where she went without bra and pasties and exposed her nipples with utmost confidence, reported The Star
Chris Brown's ex-girlfriend is known for her daring fashion sense. On varied occasions, she has gone braless and has even stripped down to itsy-bitsy bikinis, but the fishnet appearance of RiRi was quite a shocker for her fans. It is not for the first time that a celeb had tossed her bra for a public appearance; there are many Hollywood beauties that take a fashion risk of flaunting their cleavage and nipples but they do it through a sheer dress or a top.
Rihanna has clearly pushed the envelope by not hiding her lady parts behind the curtains of lacy lingerie or translucent pasties. Moreover, the 26-year-old singer set the temperature rising by exposing her silver metallic nipple piercing through the raunchy black mesh long-sleeved top, which she teamed with a leather skirt.
Fans of the "Diamond" singer wonder, what Drake has to say about this. Rihanna is allegedly dating Drake and the couple has been spotted hanging out together on the various occasions in the last few weeks.
Apparently, Rihanna even jetted to Paris to spend some alone time with the "Young Money" rapper. And what gave fans more reason to believe in their romance is the video, which showed Rihanna grinding over Drake's lap at the impromptu performance at the Palais Omnisports de Paris-Bercy.
Regarding their impromptu performance Judi James said, "Does grinding like this really signal any form of genuine sexual shenanigans any more? I doubt it. Who didn't grind with their boss at the office party this year or with their granddad at his Ruby wedding bash?" reported Entertainmentwise.com.
RiRi's alleged romance with Drake is probably the reason why she left the bra at home for the Paris Fashion Week. Don't you think she was trying to allure her lover?