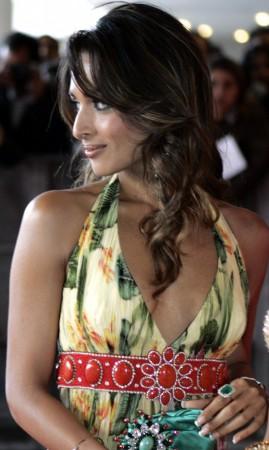 Bollywood is closely connected to music and dance. It is indeed hard to find a Bollywood cinema without heavy duty dance and music numbers. Even though item numbers or dance numbers with girls in revealing clothes existed in the 70s and 80s, a new form and importance has being given to it today. One of the guaranteed ingredients that makes a film a super hit is item number.
"Chaiya Chaiya" from the movie "Dil Se" can be counted as the "baap of item numbers in Bollywood." With Malaika Arora Khan and Shah Rukh Khan dancing on top of train to the beats of A R Rahman, the song started a new era of item numbers. Then there was "Maahi Ve" from "Kante" which literally brought the typical pole dancing and strip clubs to the Indian cinema. Another seductive number was "Maiya Maiya" from the movie "Guru". Mallika Sherawat dressed very provacatively and using a few seductive signs, the song brought in a "middle-eastern" feel to the sequence.
Probably, the above served as examples for the directors, who took movies later, as three "item numbers" that followed took Bollywood by storm. We are talking about "Sheila Ki Jawani" from "Teez Maar Khan", "Munni Badnam Hui" from "Dabbang" and "Chikni Chameli" from "Agneepath". Ultimately, one is either talking about a girl's sexinesss or how she loses her virginity or how her sex symbol. The above three tunes were at the top spots for quite some time after their individual releases. Infact, the respective movies became huge grossers in box office, mainly due to the inclusion of the item songs. Reality shows and other programmes too celebrated the songs.
Some claim that the "item numbers" are highly obscene and are disgraceful to a woman's morality. The "item girl" is made to wear the shortest and highly provocative outfits possible. So, this by itself is developing a genre which is a step away from mainstream Hindi cinema.
Is this for the better or the worst? Is exploitation of women promoted on screen? Is the fascination for raunchy item songs ruining the moral of Hindi cinema?
From the past figures, it looks like Munni, Sheila and Chikni Chameli will stay as part of Bollywood forever.
Now, the big question is whether the obsession for item numbers will ruin the quality of Hindi cinema.