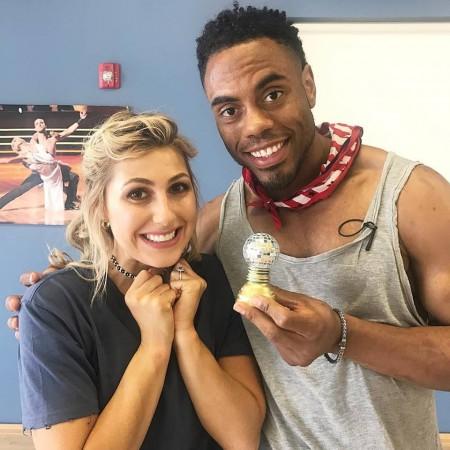 Rashad Jennings took home the Mirror Ball Trophy in Tuesday's Season 24 finale of Dancing with the Stars.
Before the winner was announced, the three finalists, Normani Kordei and her dancing partner Val Chmerkovskiy, David Ross and Lindsay Arnold, and Jennings and Emma Slater, had to perform one last time to impress the judges.
Also read: Chelsea Handler has some serious doubts about Donald and Melania Trump's marriage
Former NFL successes on the show include Emmitt Smith, Hines Ward and Donald Driver.
This is the first time professional dancer Slater is winning the Mirror Ball Trophy.
Just days before the finale, Jennings opened up to People about his life as a youngster and revealed that he was bullied in school.
"I was definitely bullied," Jennings said. "I was made fun of a lot because I was a 0.6 GPA, chubby kid with glasses and all that good stuff. But I was just goofy enough not to show people how I was feeling inside. That's why I say you never know what somebody's dealing with behind their eyes, because I personally just don't do a good job of showing my struggles unless I tell it. It doesn't come off my face."
Jennings also said that Netflix's 13 Reasons Why opened his eyes up further on the negative impacts of bullying.
"There's so many different metaphors in [13 Reasons Why] of how a kid can get to that position and you don't even realize it — in a matter of a couple months how from home life, maybe no attention or don't feel comfortable to open up, every kid's been there," says Jennings. "It makes you stop and analyze how a couple decisions that you can make and how you speak to somebody could push them right over the limit."