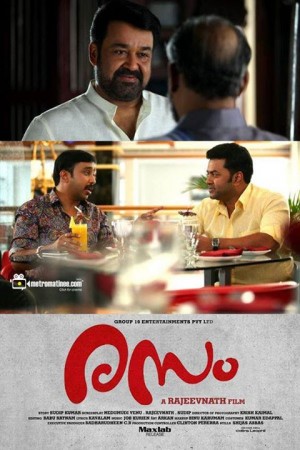 Malayalam movie "Rasam", starring Mohanlal and Indrajith in the lead roles, has opened to average reviews. Most critics have reviewed the Rajeevnath directorial as avoidable.
"Rasam" revolves around Balu(Indrajith), a restaurant owner and a MTech graduate. His father Guruvayoor Thirumeni (Nedumudi Venu) is a famous Namboothiri cook and is known for the delicacies he prepares. He is invited to Doha to cook for the marriage ceremony of businessman RJ Menon's (Devan) daugther, played by debutant Varuna Shetty.
Balu along with their helper Nair (Nandu) go to Doha a week before the wedding. There he discovers some truth's about the groom. Mohanlal plays the role of Menon's close friend in the movie.
Meanwhile, most critics have claimed that the plot of the movie is repetitive and has nothing new to offer.
Here are the reviews of "Rasam" by various critics
"'Rasam' is by no means a Mohanlal film, though it should be admitted that he is the only good thing about it. Mohanlal, playing himself is remarkably at ease, and even when forced to take up the role of a narrator whose lines sound all messed up, does maintain a dignified stance. Indrajith isn't offered an earth shattering role, and does an adequate job as Bala Shankar while Varuna Shetty looks and sounds a bit out of sync. Nedumudi Venu is all impressive as Valliyottu Thirumeni, even as Nandu puts up an inflated act."
"It would have helped if Rajeev Nath explained who would be interested in this misadventure of his, except for those who have managed to act in the film. In an industry where a sizeable number of movies flop every year, films like these can only alienate the existing viewers from watching films.Indrajith maintains a single look throughout the film. When he is aware that his presence even in a cameo role could be marketed by its makers, Mohanlal should have shown some responsibility to the viewers, while agreeing to do this one. 'Rasam' is tasteless to the core, no two ways about it. Get a sumptuous meal at your favourite restaurant instead of wasting your time and money on this one."
"The basic premise had promise and the film as such moves along nicely without too many ups and downs. Humour elements work only sparingly and there is nothing specially invigorating in 'Rasam'. The presence of Mohanlal is indeed the highlight and he breezes through his role with consummate ease."
"Indrajith is aptly cast as the lead character and he does a fairly good job, though it is not a challenging role by any means. Devan as an industrialist based in Doha and Varuna Shetty as his daughter also give a fair account of themselves. Nedumudi Venu as the master veteran chef is typically good. All other actors have done their bits in the limited scope that the script offers. Job Kurian's music and Krish Kymal's camera just about do the job."
"Rasam is no Salt n Pepper food play. Of course, a few sequences make you want to check out the now-fading practices of traditional Hindu wedding catering or crave for a sadya. The story is palatable, but too predictable right from the beginning. The attempts to generate situational comedy do not even create a chuckle as the scenes are boring repeats from numerous films and serials. If not for Mohanlal - who plays himself in the film- the movie potential to lure audience with its foreseeable storyline appears chancy."