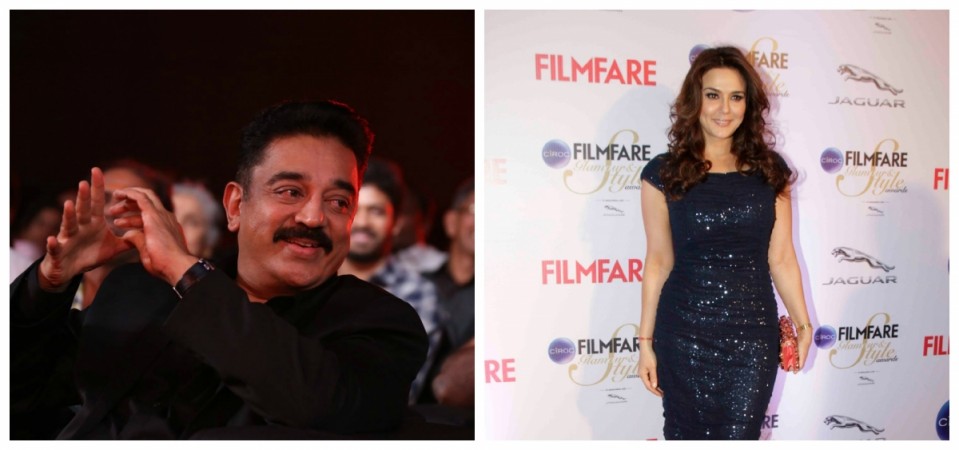 Shankar directorial "Enthiran" or "Robot" is one of the biggest movies produced in India. The movie, which starred Rajinikanth and Aishwarya Rai in the lead role, was released in the year 2010 and went on to become one of the biggest successes of the year in terms of box office collection.
But recently, fans learnt that Shankar had initially planned "Enthiran" with Kamal Haasan and Priety Zinta in 1998, but the project could take off due to monetary concerns.
Shankar's movies are always big, be it the sets, star cast or the technology. Reportedly, during those days, the budget and the technical aspects for "Enthiran" was too much for producers to invest on and hence, the plans for the movie were dropped.
Recently, online media went abuzz with some pictures of Kamal Haasan and Preity Zinta which was taken during initial photoshoot of "Enthiran". Many of Kamal Haasan fans think that the movie would have got a different perspective if it was done by "Ulaganayakan", but it was may be meant for Superstar Rajinikanth.
Here we are sharing some rare and unseen photos of Kamal Haasan and Preity Zinta that were taken during "Enthiran" photoshoot [Click Here For More Photos]:
An #Exclusive Secret Revealed after years :#Robo (#Enthiran) was first shot with #Kamalhassan & #PriethyZinta in 1997 pic.twitter.com/oz2dcG4IZQ

— ProudPurian (@ProudPurian) March 25, 2015
the super sensational movie #Robo (#Enthiran) was first shot with #Kamalhassan and #PriethyZint in 1997 #shankar pic.twitter.com/Y7hp9bgOXJ — TARUN (@KOTA_THARUN) March 25, 2015