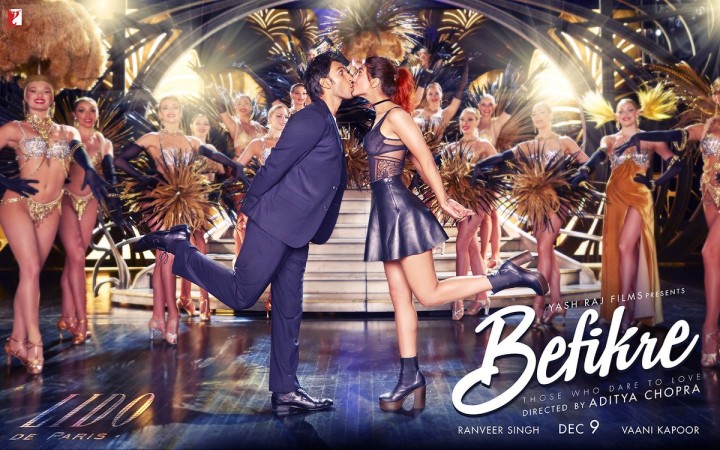 Ranveer Singh and Vaani Kapoor are set to create a new record of kissing each other for the posters of their upcoming film, "Befikre." The makers of the film have released a new poster of "Befikre" and the duo is sharing a passionate kiss in it as well, similar to the earlier film posters.
The latest "Befikre" poster shows Ranveer and Vaani lip-locking on a beach, which might be in Cannes, France. Ranveer shared the poster with a caption that said: "We just Cannes stop kissing ;) #BefikreOn9th @befikrethefilm."
The poster of "Befikre," released before the recent one, featured Vaani and Ranveer kissing on a dance floor. The poster also included some beautiful girls standing around them as the two stars had their onscreen PDA moment.
While the previous three posters showed Ranveer and Vaani kissing each other passionately, this new poster presents them in a more cute manner. It looks like the makers of "Befikre" have decided to give a glimpse of all the kissing sequences in the posters that the two stars will have in the movie.
Earlier, the first poster had showed Ranveer and the actress lip-locking, however, their faces were creatively hidden. The second still also had presented them with a hot kiss as Vaani is seen sitting on Ranveer's lap.
Directed by Aditya Chopra, "Befikre" will reportedly be the most erotic movie of the Yash Raj Films till date. It has also been reported that Ranveer and Vaani will have as many as 23 kisses in the movie, which is set to be released on December 9.
Check out the new poster and two previous posters of "Befikre" here: