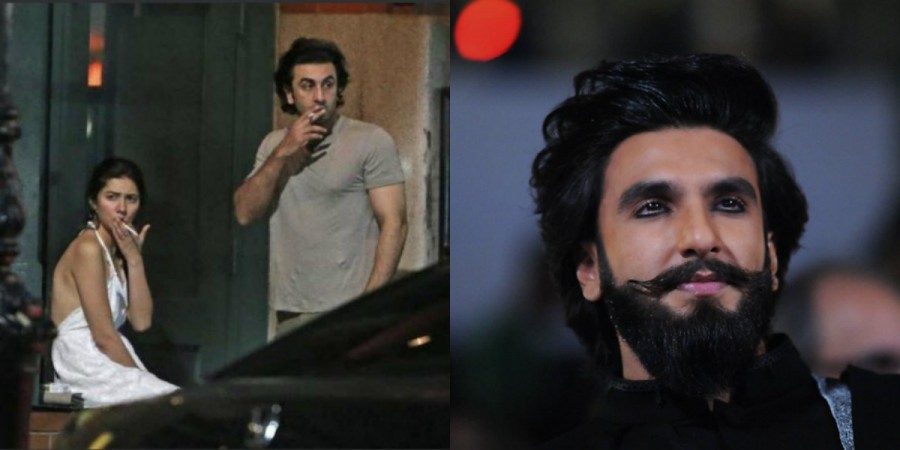 Pakistani actress Mahira Khan, who was last seen in Shah Rukh Khan-starrer Raees, had recently found herself at the receiving end of slut-shaming after a few pictures of her having a smoke with Ranbir Kapoor on the streets of New York City spread like wildfire on social media.
In an exclusive interview with a leading magazine, Ranveer Singh was asked about his opinion on the leaked pictures of Ranbir Kapoor-Mahira Khan, and he said: "I can only speak about my own experience. There are times when I'm at a certain place with certain people and I don't want those private moments to be captured by anyone. But you can't help it.
"You got to take the bad with the good. I get to do what I love to do and I make a lot of money. But some things are irritating and you've got to take them in your stride. It's a crazy world."
He also commented on gender bias and said: "Everyone has their own interpretation. Everyone has their own set of values. Everyone has an opinion. You can hear them but you needn't subscribe to them.
"At the end of the day, one should just live and let live and focus on more important things. Mahira is a great performer and an entertainer. One should ideally just engage with her at just that level."
Ranveer Singh and Ranbir Kapoor have shared screen space on Koffee with Karan.
On the professional front, Ranveer will be seen playing the ruthless Alauddin Khilji in Padmavati, while Deepika Padukone will play Rani Padmini and Shahid Kapoor will be her husband Rawal Ratan Singh.
Set to be released on December 1, the movie is one of the most-awaited flicks of this year.
Ranbir Kapoor, meanwhile, is busy preparing for his next film Brahmastra that also stars Alia Bhatt and Amitabh Bachchan.