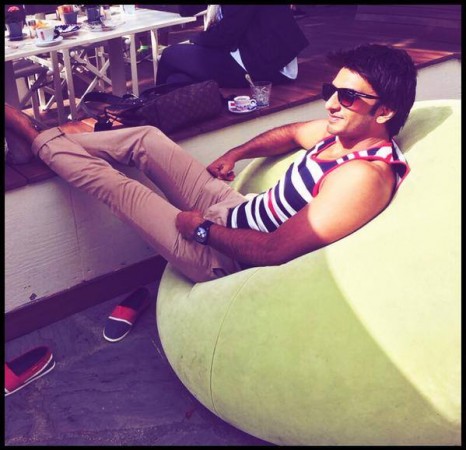 Bollywood actor Ranveer Singh, who is awaiting the release of "Dil Dhadakne Do", spent some time answering the queries of his fans on Facebook Q&A session, held from 3 pm onwards on Tuesday, 12 May.
Many of his fans were eager to chat with the "Ram-Leela" actor, who replied quite honestly to each of their questions.
When one of his fans asked about his co-star and ex-flame Anushka Sharma, the actor praised her by calling her a brilliant and lovely actress. He also added that he was happy to work with her again.
He further said that his nickname is "RAMBO" and his favourite IPL team is Mumbai Indians. The actor also revealed that he learned Marathi for his upcoming film "Bajirao Mastani".
"Dil Dhadakne Do", about a dysfunctional Punjabi family, is set to hit the screens on 5 June. The film also has Anushka, Farhan Akhtar, Priyanka Chopra, Anil Kapoor, and Shefali Shah in the lead roles.
Ranveer will also be seen sharing screen space with his alleged girlfriend Deepika Padukone and Priyanka Chopra in Sanjay Leela Bhansali's upcoming project, "Bajirao Mastani", which is set to hit the screens in December, this year.
Check out other questions asked by Ranveer's fans below:
Did you've fun working with Farhan Akhtar?
hes a BLAST to work with ! hilarious! non stop entertainment all day long
Did you do anything special for Mother's Day?
yeah sent mom for a holiday
What do you do when your movies go hit?
thank the lord and smile
How do you like Honey Singh?
love him! miss him!
If you get a chance to work in Avenger, then which role you like to play?
iron man or then hulk
I just love sense of humour....do you believe that you are true cancerian?
yeah quite typical, over sensitive emotional type
Who is your favourite Pakistani artist for all time?
USTAD nusrat fateh ali khan sahab
You'r favourite movie of Salman Khan?
judwaa!
Favorite video game?
fifa forever!
How do you manage to look so hot all the time?
i work out
What makes you the happiest?
kindness
What was your feeling while shooting at 'DIL DHADAKNE DO' Sir ???
felt like a holiday
What do u like most about our country?
the diversity
what's your favourite abs workout?
hanging leg raises
What you think about Farhan's voice?
i like the raspy quality
Do you follow diet strictly?
thoda thoda kabhi kabhi