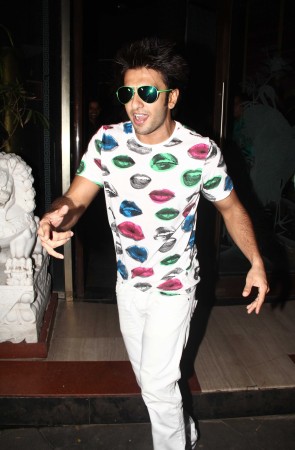 While most of the Bollywood stars choose to remain mum when it comes to talking about their personal lives, especially sex life in public, Ranveer Singh is perhaps the only actor who speaks his mind.
Be it endorsing a condom brand or talking about his sexual experience, the "Gunday" star has done it all.
During a recent interview with Deccan Chronicle, the actor was quite vocal about his first time in bed. He mentioned that he lost his virginity at a young age of 12, after which he became an expert in the subject and started giving lessons to his school friends. The actor now claims that he can even write a thesis on "sex".
The "Kill Dil" star said with a laugh: "I think I was around 12 when I did it. I started everything early, everything! I was way ahead — so much so, that in school all the mothers used to say he (Ranveer) is that rotten apple that's spoiling all our kids. I used to hold sermons with all the boys surrounding me and I used to teach them. They hadn't heard of it and I became the expert because I had started very early."
The "Dil Dhadakne Do" actor however, admits that it was only his curiosity that prompted him to get laid at such a tender age.
However, Singh specified that he strongly believes that products such as condoms should be widely promoted. Since Indian society's attitude towards the subject has changed over the years, he feels that people should be more involved in healthy and open conversations when it comes to matters like sex.
"When I am in a car, I see these hoardings go by. I thought to myself, somebody is selling this, somebody is selling that, why isn't anybody selling condoms? Then I realised that the only ads we have for condoms are very provocative in nature. That shouldn't be the only prevailing definition of sex. As a society, we have evolved; our attitude towards the subject has changed. So we can have open and healthy conversations about this. Somebody needs to point that out or else people will keep treating it as taboo," he added.
He further says that although many actors endorse various products, not many want themselves to be associated with products like condom; hence, he decided to take the initiative. It was he who approached the brand, Durex for the ad video and not vice-versa.
Although, Singh knew that being an actor and promoting a condom brand might affect his image, he was willing to take the risk. The result, however, was a big success.
Check out the actor's Durex ad video that went viral: