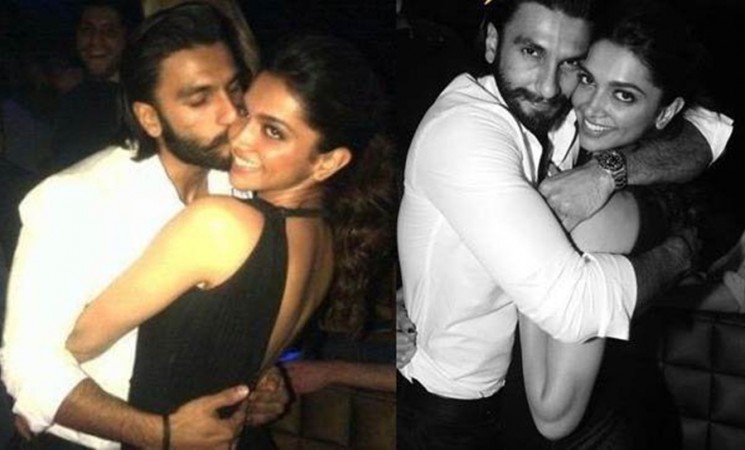 It wouldn't be wrong to say Ranveer Singh and Deepika Padukone are one of the most romantic couples in the B-Town, despite never having admitted to their relationship.Their love is quite evident from their neverending PDAs.
And once again, Ranveer has displayed his affection towards his rumoured ladylove in the most romantic and his own inimitable way, that will surely give you relationship goals.
Shah Rukh Khan was having a tete-a-tete with his first guest Deepika Padukone during the first episode of his new talk show Baatein with Baadshah when Ranveer sent across a message to his Mastani in a quirky video, where he was seen dancing to the tunes of Ek Ladki Ko Dekha from 1942 A Love Story wearing a silver hooded jacket teamed with blue shades.
A wide smile flashed across Deepika's face while watching the video, and she was seen blushing and hiding her face from the camera with a pillow throughout.
The video undoubtedly elicited a lot of laughter from her. She was even seen affectionately calling him a clown for his over-the-top antics, which Ranveer is quite popular for.
Towards the end of the video, Ranveer said: "Mandir mein ho ek jalta diya, Diya, yaani ke Deepika, yaani ke aap. Aapke baare mein kya kahun? Jis tareeke se aap, apne karoron chahne waalon ke zindagi me ujaala ban ke aayi, meri zindagi mein ujala ban ke aayi. Mai upar wale se yahi dua karunga ki aapki bhi zindagi me ujala barkaraar rahe, humesha humesha ke liye."
Translation: "Now what should I say about you? You have come into my life it like a shining ray of light and brightened it just the way you have lit the lives of thousands of your fans. My only wish to God is to always keep your life glowing like a star. There's nobody like you! God bless you and love you lots!"
Watch the video here:
A few days ago, when Deepika was asked what she likes best about Ranveer's company, she said: "When we're with each other, we don't need anything or anyone else. We're comfortable in each other's presence. Sometimes it's intelligent conversation, sometimes just silence, sometimes there's a childlike innocence. We keep each other grounded. We are good in that sense."
When asked about her plan to settle down in 2018, Deepika said: "I can't put a year to it. Honestly, I've never been able to do anything that is time bound. I believe relationships have their way of unfolding. As far as my equation with him is concerned, I am sure that will unfold in its own manner. I can't wait to be a homemaker. Because from the time I was a little girl, I've always wanted to be that. I've always wanted to start a family."
Now can we expect Deepika and Ranveer to go official with their rumoured relationship in public? We can certainly hope for it.