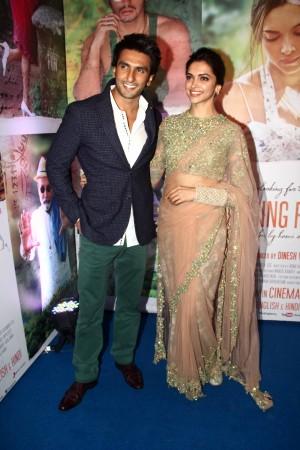 The news of Bollywood's leading actors Deepika Padukone and Ranveer Singh dating each other is one big open secret, but the latter only fanned the rumours surrounding their "special" friendship by mouthing the three magical words to his alleged ladylove on "AIB Knockout".
The show, which was filmed on Saturday, saw Singh and buddy Arjun Kapoor being grilled by the "AIB" boys - Tanmay Bhatt, Ashish Shakya, Gursimran Khamba and Rohan Joshi – while Padukone and Sonakshi Sinha looked on.
"Ranveer was seen mouthing I love you to Deepika in between breaks. Even though he didn't say it on mike, several attendees saw him say it and look at Dippy who too was the subject of several jokes on the show," Bollywood Life quoted a source as saying.
The B-Town couple, who were first linked after they displayed some infectious chemistry during Sanjay Leela Bhansali's "Raam Leela" promotions, is set to scorch the big screens in "Bajirao Mastani" for which Singh has shaved off his head.
While their easy-breezy friendship is a testimony to the unbreakable bond the two share, both Singh and Padukone has been on denial mode ever since the news of link-up broke out. Like any other on-screen couple they preferred to be addressed as a pair with a good chemistry and nothing more.
Singh, who is known to get into the skin of every character he plays, once said that he was only concentrating on his career and that marriage is out of question. Padukone, on the other hand, said Singh holds a special place in her life and that he will always be a great friend.
However, this whole "just friends" is hard to digest considering the kind of praises the two shower on each other every now and then. A few days ago, Padukone cheered for Singh's "Kill Dill" on Twitter, whereas Singh stood by the "Happy New Year" actress's side during the cleavage controversy.