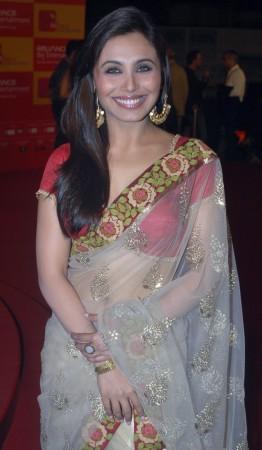 Actress Rani Mukherjee has joined the huge list of top heroines doing item numbers in Bollywood films.
According to the film's director Sachin Kundalkar, the bong beauty is doing three item numbers in her upcoming film "Aiyaa," which is set to release by Dussera, this year.
"The film is a mixture of reality and dream and Rani will be seen doing three item songs in her dream in the film," Kundalkar said, NDTV reported.
The songs are composed by Amit Trivedi and Rani has undergone a special training to perfect her role of a Marathi girl in the film.
The film "Aiyya" seems to be a woman-centric film in which Rani is paired opposite southern star Prithvi Raj. It is about a woman who finds a man desirable because he smells good.
"I don't know for how many years I was trying to work with her (Rani). Luckily this script excited her," Kundalkar told the TV channel.
"Rani is very hardworking. She had gone through language training program before starting the film. She was a complete Marathi girl on the sets," he said.
"As far as the lead actor was concerned, one of my friends suggested Prithvi's name," he said, adding "Prithvi is an amazing actor and both are looking very fresh in the film."
The release date was earlier set for Sep 28 but due to certain reasons it has been pushed back to Dussera time in October last.