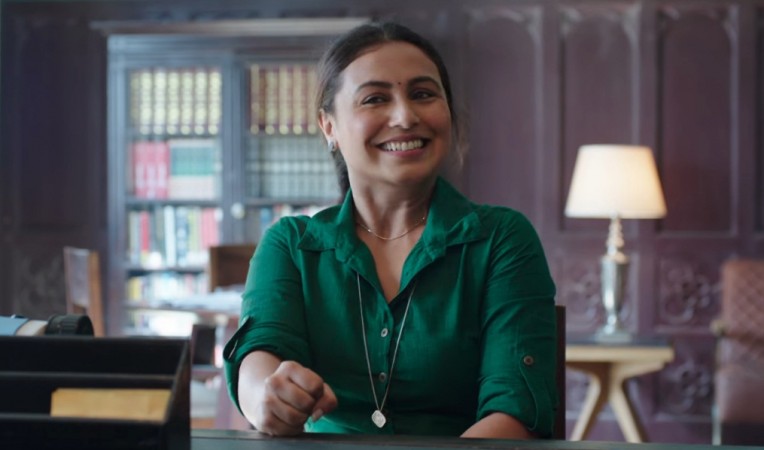 Rani Mukerji is all set to appear on the big screen again with the movie Hichki. The trailer of the film has been released on Tuesday, which shows Rani playing a teacher who suffers from tourette syndrome.
Although the term "hichki" is mostly used to mean hiccups, it has been used as the title of the film in a broader context. Here "hichki" has been used as any physical problem that creates obstacles in life.
Although Rani plays the character who suffers from tourette syndrome, the actress revealed that she had stammering issues in her childhood. At the trailer launch of Hichki, Rani revealed how she overcame the issue, adding that her mother also had the same problem, and his elder brother still has it.
"I used to stammer in childhood. My mother has a stammering problem and my elder brother still has severe stammering issue. However, I could overcome the problem as an actress we need to deliver many dialogues and express many emotions. And stammering is something that becomes more prevalent when you get emotional about anything. I had to work a lot towards it and control it. But the good thing is if you work towards your weaknesses, you can turn those into your strength," Rani said at the event.
She further narrated how her mother Krishna Mukerji used to be afraid to talk when she was in a group. But she somehow managed to overcome the problem too.
"As my mummy herself used to stammer, she supported me a lot. When my mummy had gotten married at the age of 20 and came to Mumbai with my father, her stammering was so severe that she did not used to talk in any gathering. However, she never faced this problem when she used to sing, even on stage, but she used to stammer when she used to talk. Later she worked a lot on it, and my dad was very helpful and supportive towards her," she added.
Rani revealed that her stammering problem was not an in-born one and so she could overcome it easily.
"Later, Raja (brother) developed it seeing our mom. And then I developed the same seeing Raja. Probably mine was not an in-born stammering, it was more about observing and then picking that up. So my problem got sorted out quickly as it was not in-born," the 39-year-old actress said.