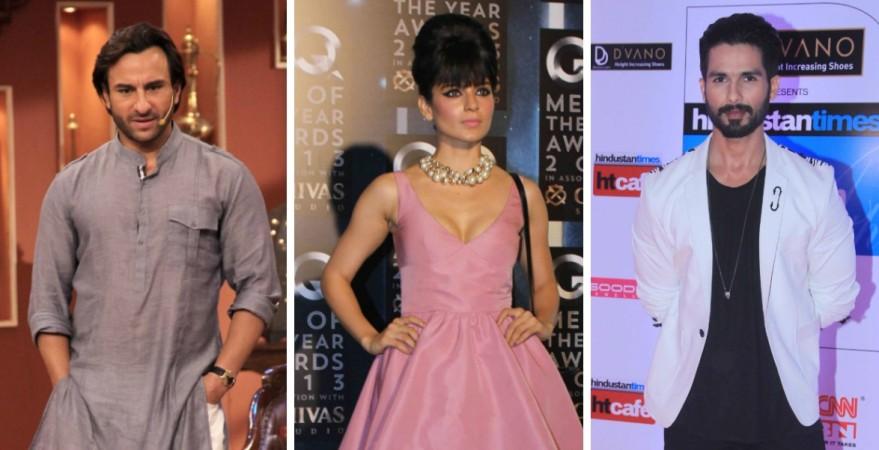 The release date of "Rangoon" has been postponed to February 2017 and reports suggest that the lead cast of the movie is happy with the delay.
"Rangoon," starring Shahid Kapoor, Saif Ali Khan and Kangana Ranaut, was supposed to be released on Sept. 30, 2016. The film's release date was later pushed to Oct. 14 and now it has been further been delayed and will hit screens on Feb. 24, 2017.
However, apparently all the three stars of the movie are happy with the delay. Both Shahid and Saif's wives Mira Rajput and Kareena Kapoor Khan respectively are pregnant.
While Kareena is expecting her first baby in the month of December this year, Mira is likely to deliver her child in September. The two lead actors of "Rangoon" would have to allot most of their time to promotions of the film if it was released in September or October.
Now, as "Rangoon" will be released in the month of February, both Shahid and Saif will be able to spend time with their pregnant wives at the crucial period. On the other hand, Kangana too apparently has her own reasons to be happy about "Rangoon" releasing in February.
Director Vishal Bhardwaj recently revealed the reason behind Kangana's joy. "When we suggested February 24 as the release date, Kangana was very excited as she is sentimentally attached to February, given the exceptional response to 'Tanu Weds Manu,' which had released in the same period," Vishal told media at a recent event.
The movie "Rangoon" is set in the backdrop of World War II. It will feature Shahid as a soldier, Saif as a film-maker and Kangana will play the character of an actress.