Multilingual movie "Baahubali" ruled the box office nationwide in its first week. However, its success affected the business of low-budget movie "Rangi Taranga".
Click Here to See 'Rangi Taranga' Movie Stills
But, it seems like "Rangi Taranga" has survived the "Baahubali" storm due to good word-of-mouth. The business of the movie, featuring youngsters, is now slowly picking up, with multiplex audience and Sandalwood celebrities appreciating the film.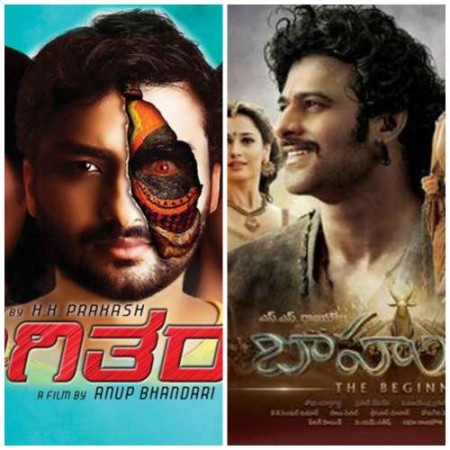 Shortage of theatres have been a major issue in Karnataka. Whenever a big budget non-Kannada film hits the screens, the local films get hugely affected as theatre owners prefer the other language films to Sandalwood flicks.
"Rangi Taranga" has also been affected as "Baahubali" has taken away majority of good screens. The high-scale promotions almost took away the fortunes of the latest Kannada movie. But the good support from the responsible Kannada cinema lovers and celebrities helped the movie stay in theatres even though it has got minimum screens to survive.
"Rangi Taranga" will continue to face competiion as Bollywood movie "Bajarangi Bhaijaan" is set to release soon and in Karnataka, it is expected to have a grand opening. And, the situation is likely to remain same.
"Rangi Taranga" is a mystery thriller written and directed by Anup Bhandari, and produced by HK Prakash. Nirup Bhandari, Avanthika Shetty, Radhika Chetan, Saikumar and others are part of the cast.
Hollywood's Lance Kaplan and William David have handled the cinematography and Praveen Joyappa has edited the movie. Director Anup Bhandari has also composed the music and Ajaneesh Loknath has scored the background music.
Meanwhile, many celebrities have spoken about "Rangi Taranga". Below, we bring you their comments.
Kichcha Sudeepa Wrote
Wishn Anup n Rangitaranga team bst wshs..wshs to his dad SudhakarBhandary sir too,,the person who directed my serial..wil watch it soon.
Meghana Gaonkar Tweeted
Watched this film #RANGITARANGA last night,such honest efforts and a real good film! @AJANEESHB background score is a jewel to the film!
Nabha Natesh Wrote
Watched #rangitaranga last night with the team. Got awestruck by the movie. Loved it. Kudos to the team.
Sruthihariharan Posted
Irrespective of what language you speak or which state you come from - #Rangitaranga is going to be one amazing trip - a must watch :)
Shweta Pandit Wrote
Watched #RangiTaranga ! Just wow.. Do watch n support.. One of the best Kannada movies!
Sri Murali Tweeted
Watched #RANGITARANGA .
luved it.... all the best guys!
Innu yaaryaaru nodilwo pls miss maaddhe nodi.
U like good films right... so watch it... U'L LUV IT.
Luv,
#SriiMurali
#RATHAAVARA