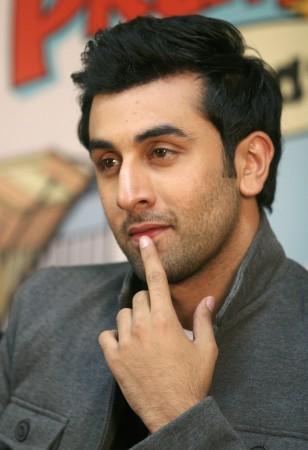 Actor Ranbir Kapoor dismissed reports of the iconic 'Awaara' being remade, clarifying that no such project was in the line.
Reports have been streaming about the classic Raj Kapoor starrer being remade by the Kapoor clan with the young scion Ranbir playing the lead.
After much deliberation, Ranbir has finally come forward stating that there have no attempts of the Kapoors remaking the film by
In an interview to Press Trust of India, the actor put the rumours to rest saying, "I believe that I shouldn't remake such a classic film. Once a film like that is made you can't make it again. I don't think I have enough talent to do such a film."
But when asked of reports quoting Rishi Kapoor about the film ready for remake, the "Barfi" star said, "Even I read in the papers only."
"Awaara", which also starred Prithviraj Kapoor and Nargis, became the biggest hit of its time when it was released in 1951. The film with Raj Kapoor's Chaplinsque tramp-inspired look scored mass appeal in South Asia, Soviet Union, East Asia, Africa and the Middle East.
The phenomenal success of the film made Raj Kappor's name synonymous with Awaara (tramp). The film was listed as one of the All-Time greatest films by Time Magazine in 2012.
Ranbir went a step further by inking the film title on his right wrist as a mark of respect for the Kapoor heavy weight.
Meanwhile, his upcoming film "Yej Jawaani Hai Deewani" with ex-flame Deepika has created huge interest in audience.
Asked if there were any awkwardness between the actors during the filming, the 30-year-old replied nonchalantly, "Deepika and I came into the industry individually as actors. We both are hardworking, passionate about films and ambitious. Why will there be any awkwardness between me and her?"
Ranbir even expressed his desire on working on an action film. "Of course I want to do an action film. But for that I don't have the body. When I get a good action film I will build my body for that," he said.