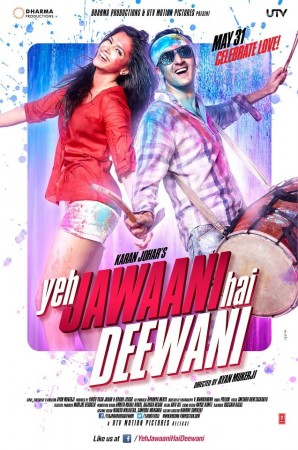 Ranbir Kapoor and Deepika Padukone starrer "Yeh Jawaani Hai Deewani" has landed up in trouble with the Delhi High Court stalling its release on television following a lawsuit filed against the movie by the manufacturer of squash Roohafza.
The curb on the television broadcast of "Yeh Jawaani Hai Deewani" was issued by the court after the manufacturers of the syrup - Hamdard National Foundation - filed an injunction suit claiming that the romantic flick contained some objectionable dialogues against Roohafza.
"The defendants (film makers), their agents, representatives, assignes or any other persons acting on their behalf are restrained from releasing the home video version of the movie"...." of any other version of the movie on cable television or television which contains the objectionable dialogues as complained in the suit," Press Trust OF India quoted the court statement.
"However, it is made clear that this order is not applicable to the theatre version of the movie which has already been put to release and the defendants are at liberty to omit the objectionable content from the film and proceed to release the home video version or any television version of the movie."
The court also issued notices to the director, producer and dialogue writers and fixed the hearing of the matter for 16 July.
The plea filed by the manufacturer stated that some of the dialogues of the "Yeh Jawaani Hain Deewani" portrayed Roohafza in a manner which was 'detrimental to the interests of the plaintiffs (manufacturer) as a proprietor'.
"The dialogues in the movie would definitely damage the goodwill and reputation of the plaintiffs and is an actionable wrong in common law as well as statute...," the plea said.